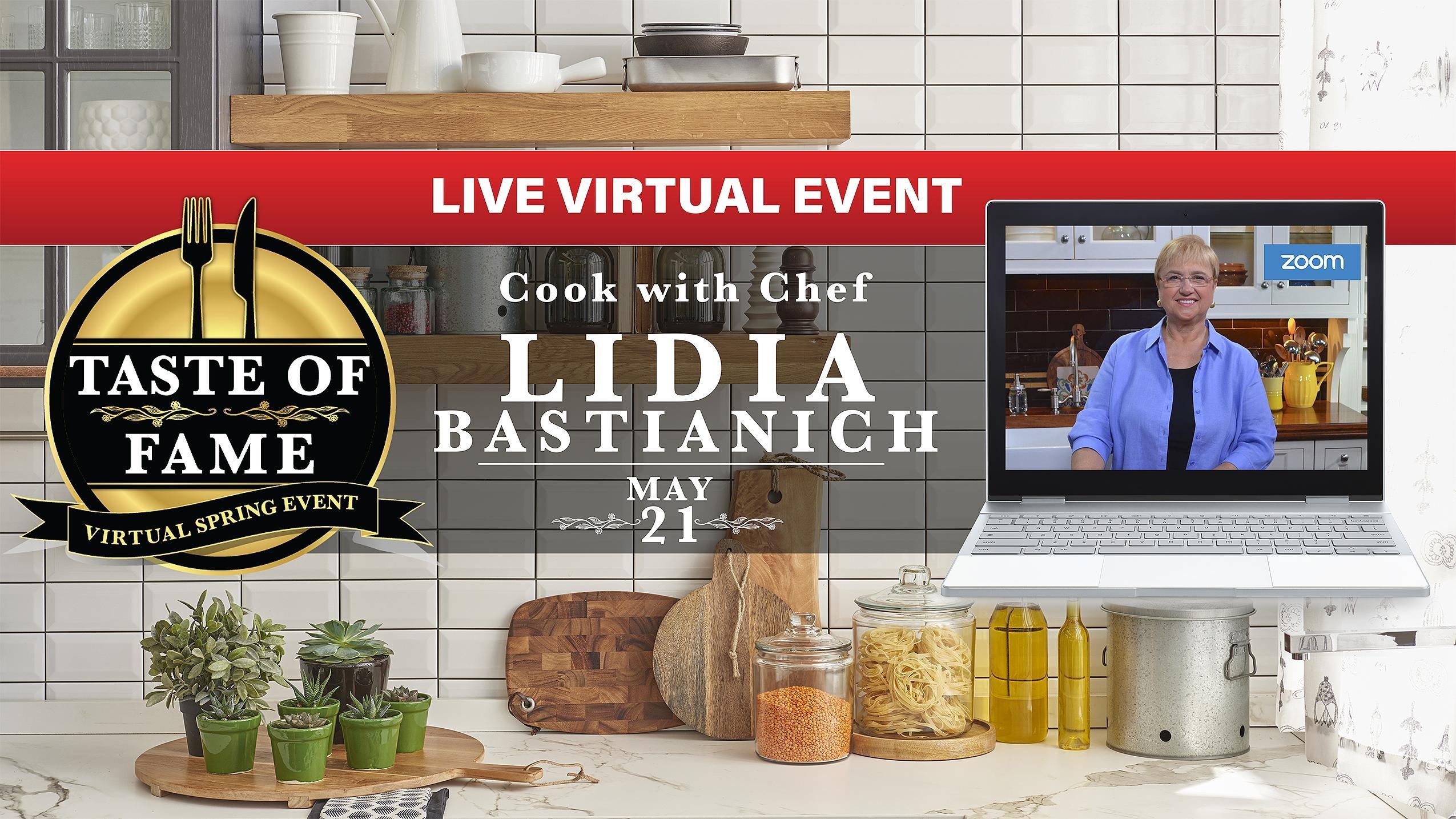 PBS KANSAS Fundraiser
Friday, May 21, 2021 • Cocktails: 5:30 – 6 p.m. • Dinner: 6 p.m.
Click here to order tickets. Ordering deadline is Wednesday, April 28.
You're invited to Cook LIVE with Lidia Bastianich, award-winning celebrity chef, author, and host of Lidia's Kitchen on PBS KANSAS! We'll take care of the menu, ingredients, and technology to make this a special and unforgettable evening – all from the comfort and safety of your own kitchen!
When you purchase a ticket for $175, your virtual culinary journey via Zoom will include:
A 30-minute cocktail Q&A moderated by Chef Julia Collin Davison from America's Test Kitchen, where Chef Lidia will create one of her favorite drinks, Fragoncello, and answer questions
A Sunbasket Meal Kit delivered to your home for up to four people. (All the ingredients are included to prepare the meal except for salt, pepper and oil. Attendees will have a protein choice of chicken, shrimp or tofu.)
A live cooking lesson with Chef Lidia on Zoom where you'll learn how to prepare Lidia's Springtime Asparagus Risotto
Two-week access to the recorded cooking lesson
Private Zoom rooms to eat with friends in other households
One-month All Access Pass to America's Test Kitchen's website, bringing America's Test Kitchen recipes and videos right into your home kitchen
Don't miss out on this exclusive chance to cook with Chef Lidia and support PBS KANSAS. Order your tickets today!
Lidia's Kitchen is a 26-part Public Television series distributed by APT and WGBH. It is made possible by Cento Fine Foods, Consorzio di Grana Padano, FabbriUSA, Auricchio Provolone, Locatelli Pecorino Romano, Rovagnati Gran Biscotto, and Olitalia Olive Oil.