New Cooking Show on PBS KANSAS
The Family Dinner Table Episode 3 Preview
A place where conversations happen, laughter erupts, traditions are handed down.
Third Tuesdays of each month @ 2:30 p.m.
(8.1 Cox 8)
Repeats:
Next Day Wednesday @ 4 p.m. (8.2 Cox 671)
Next Day Wednesday @ 9 p.m. (8.3 Cox 670)
Following Sunday @ 1 p.m. (8.2 Cox 671)
Following Sunday @ 2 p.m. (8.1 Cox 8)
Following Sunday @ 6 p.m. (8.2 Cox 671)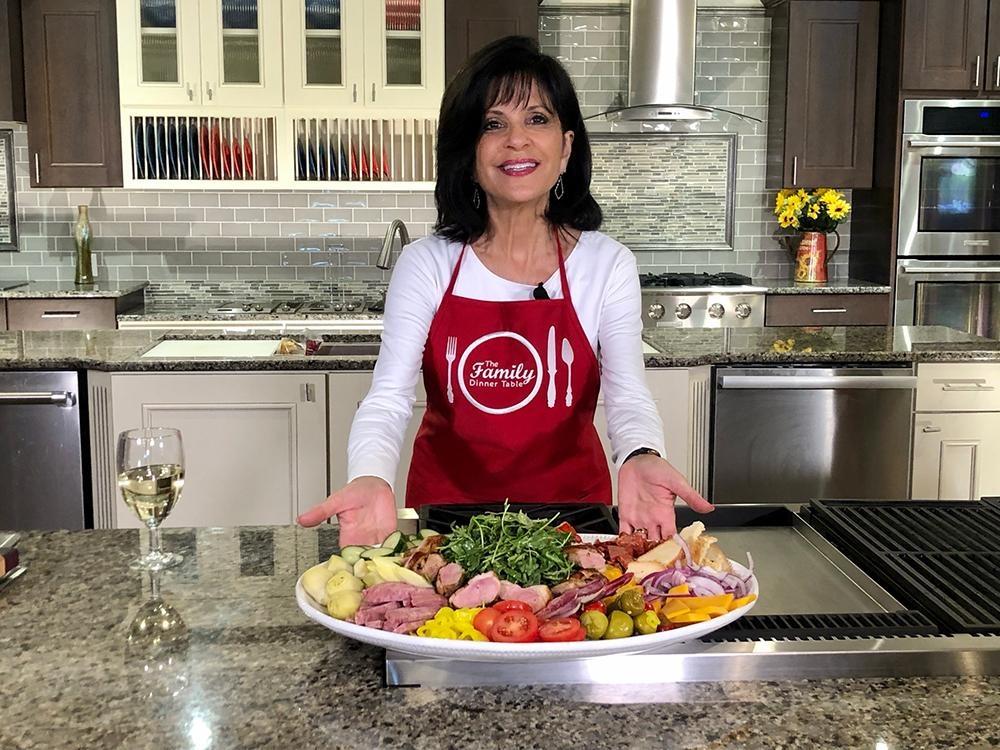 A local, half-hour cooking show hosted by the incomparable Susan Peters.
Each month, Peters will join a well-known, local chef or an extraordinary family cook, as they prepare his or her signature dish. The chef will use a family recipe handed down through generations. What makes this cooking show unique is that throughout the show, Peters, a great family cook herself, will talk about the dish and what makes it so special. She will also share old photos and stories about the featured chef and his or her traditional family dinner table.
"PBS KANSAS presents many cooking shows, both on our main channel 8.1 and on our Create channel 8.3, but we are especially pleased to bring The Family Dinner Table to our viewers because it features a local talent in Susan Peters," said Victor Hogstrom, President & CEO. "This show also offers a local perspective and introduces area chefs, restaurants and locally-sourced ingredients to our viewers across central Kansas."
Peters is well known as an Emmy-award winning journalist and anchor; for her "forever family" adoption efforts as principal of Susan's Kids; and as co-host of Hatteberg's People that airs each Thursday night at 7 p.m. on PBS KANSAS. A lesser known talent of Peters is her long-time passion for cooking delicious family meals.
August Featured Recipe: Tequila Lime Duck Salad
The Family Dinner Table 102
A place where conversations happen, laughter erupts, traditions are handed down.
Duck Marinade
Ingredients:
1/2 cup gold tequila
1 cup freshly squeezed lime juice (5 to 6 limes)
1/2 cup freshly squeezed orange juice (2 oranges)
1 tablespoon chili powder
1 tsp cumin
1 minced fresh jalapeno pepper, (seeded if you don't like spicy)
3 cloves of garlic minced
2 teaspoons kosher salt
1 teaspoon freshly ground black pepper
6 – 8 boneless duck breasts, skin scored
Truffle Vinaigrette
Ingredients:
1 cup extra virgin olive oil
½ cup white wine vinegar
¼ cup white truffle oil
2 tsp honey
1 tsp Dijon mustard
Salt & Pepper
For Salad
Ingredients:
Mixed Greens– we like arugula & endive
Salamis – Capicola, Sopressata, Genoa
Cucumbers
Tomatoes
Red Onions
Cheese (Extra Sharp Cheddar, Gouda)
Piquillo peppers or cherry peppers
Artichoke hearts, quartered
Banana Peppers or pepperoncini
Directions
The Duck:
Using a paring knife – score the fat on the duck breast (slicing just through the fat in a criss cross pattern).
Combine all the ingredients for the marinade into an airtight bag or container. Add the duck breasts and toss to combine. Refrigerate and marinate preferably overnight but for at least 6 hours.
Drain the duck from the marinade and gently blot off excess moisture. In a cold frying pan, lay the duck breasts skin side down and turn the heat onto medium. You want to render some of the fat off of the duck and turn the skin nice and crispy. Control the heat so you are hearing a sizzle but not popping.
Once the skin is crispy – flip the finish cooking the duck breasts on the other side. Cook duck breasts to 135°F for medium-rare or 140°F for medium. Let rest about 15 minutes before slicing.
Vinaigrette & Salad:
Add all the vinaigrette ingredients to a jar – close, seal and shake. Alternatively, put all the ingredients for the salad in a bowl excluding the extra virgin olive oil. Whisk constantly and drizzle the olive oil in a slow steady stream.
Chef Natasha likes to serve this salad on a large platter composed (meaning all the ingredients are in sections). She tosses the greens with the vinaigrette and serves more on the side. You can also serve this as a chopped salad with slices of the duck laid on top. See video for how Chef Natasha served it!
Serves 6 – 8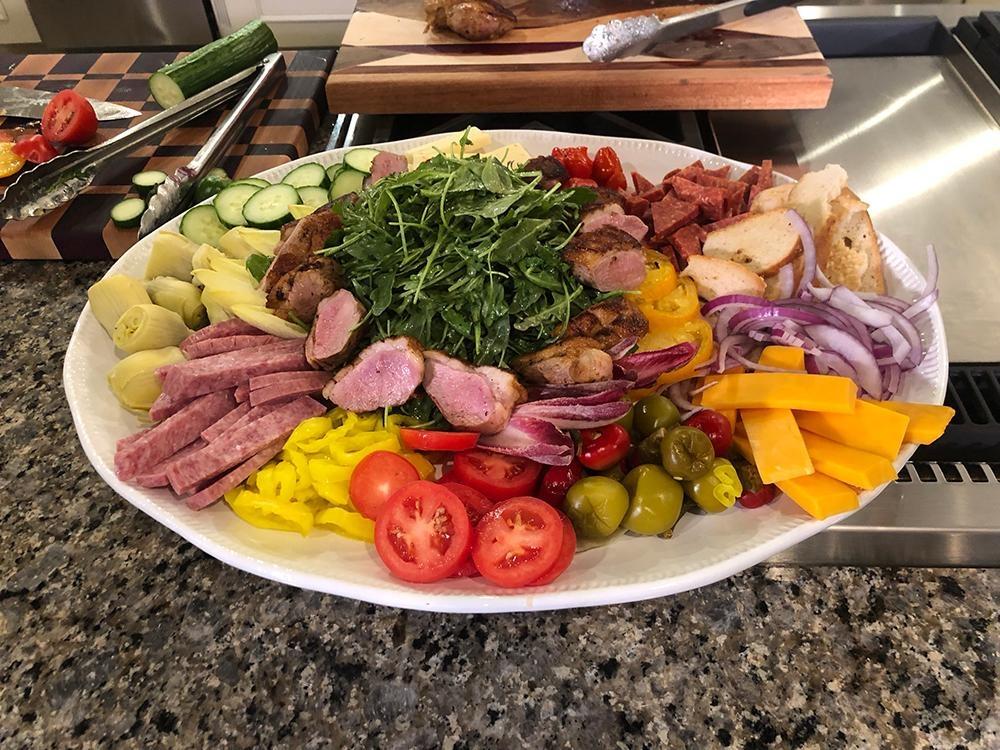 Summer Fruit Pavlova
Meringue:
6 large egg whites, room temperature
Pinch kosher salt
1 1/4 cup sugar
2 tsp. cornstarch
1 tsp. white wine vinegar
1 tsp. pure vanilla extract
½ pint fresh strawberries, hulled & sliced
½ pint fresh blueberries
½ pain fresh raspberries
For Whipped Cream:
2 cup cold heavy cream
¼ cup sugar
1 Tbsp. real vanilla extract
For Berry Sauce:
1 bag (16 oz) frozen mixed berries
½ cup sugar
18 oz jar seedless raspberry jam
Directions
For the Meringue:
Preheat the oven to 350®F. Place a sheet of parchment paper on a sheet pan. Draw a 9-inch circle on the paper, using a 9-inch plate as a guide, then turn the paper over so the circle is on the reverse side.
Place the egg whites and salt in the bowl of an electric mixer fitted with a whisk attachment. Beat the egg whites on high speed until firm, about 1 minute. With the mixer still on high, slowly add the sugar and beat until it makes firm, shiny peaks, about 2 minutes.
Remove the bowl from the mixer, sift the cornstarch onto the beaten egg whites, add the vinegar and vanilla, and fold in lightly with a rubber spatula. Pile the meringue into the middle of the circle on the parchment paper and smooth it within the circle, making a rough disk.
Right before putting the meringue in the oven, lower the temperature to 300 F. Bake for 1 hour 15 minutes. Turn off the oven, keep the door closed, and allow the meringue to cool completely in the oven, about 1 hour. It will be crisp on the outside and soft on the inside.
Sweetened Whipped Cream:
Whip the cream in the bowl of an electric mixer fitted with a whisk attachment (you can also use a hand mixer). When it starts to thicken, add the sugar and vanilla and continue to beat until firm. Don't overbeat!
Triple Berry Sauce:
Place the frozen berries and sugar in a small saucepan. Bring to a boil, lower the heat, and simmer for 4 minutes. Take off the heat and stir in the jar of jam. If you want your sauce completely smooth – process through a blender or food processor. Chill until ready to use.
To Assemble:
Invert the meringue disk onto a plate and spread the top completely with sweetened whipped cream. Combine the strawberries, blueberries and raspberries in a bowl and toss with about 1/2 cup of berry sauce, or enough to coat the berries lightly. Spoon the berries carefully into the middle of the Pavlova, leaving a border of cream and meringue. Serve immediately with extra berry sauce.
Serves 6 - 8
July's Featured Recipe: Chicken Ragu Tagliatelle
The Family Dinner Table 101
A place where conversations happen, laughter erupts, traditions are handed down.
Chicken Ragu Tagliatelle
Ingredients:
1lb Chicken thighs and drumsticks (washed and trimmed of excess fat)
Salt, to taste
Ground Black Pepper, to taste
1 tsp Sugar
1 tsp vegetable Oil
1 medium Red Onion (diced)
1/2 bunch Cilantro (washed)
1/2 Anaheim pepper (seeds removed and diced)
1 Celery rib (cut into 1 inch pieces)
3 Garlic cloves (mashed)
1 tsp Oregano
Water as needed
Directions:
Season chicken with salt and ground pepper and set aside.
In a shallow braising pot add the oil and sugar. Heat the oil and balsamic glaze.
Add the chicken and stir to coat the chicken until it gets a nice even dark color all around. Cook for 10 minutes on medium heat.
Add red onions, cilantro, pepper, celery garlic and oregano to the pot and let cook until the vegetables have softened.
Add enough water to cover ¾ of the chicken. Bring to a simmer and then cover. Cook for 35-40 minutes.
Marinara
Ingredients:
10-12 Fresh Basil leaves
5 Garlic Cloves (smashed)
1 TB Oregano
2- 28oz Canned Whole Tomatoes
1 TB Extra Virgin Olive Oil
Directions:
In a tall pot over low-medium heat add olive oil once heated toast the garlic cloves once you can smell the garlic stir in the basil leaves then add the tomatoes.
Cook until reduced about a quarter.
Pour into blender or use an immersion blender until it is pureed.