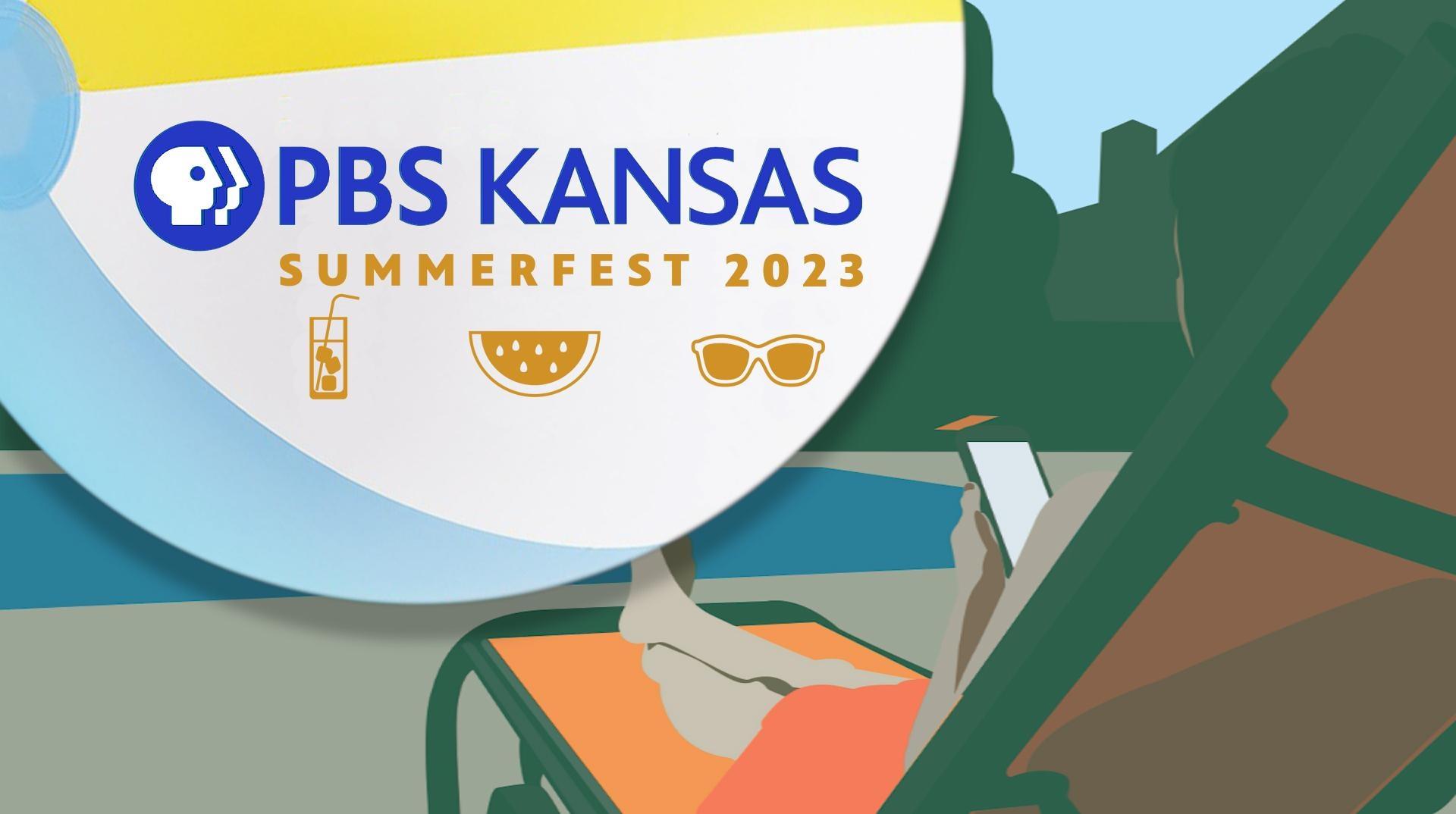 The PBS KANSAS Summerfest 2023 Membership Drive is the perfect time to show your support and become a SUSTAINER of the one place that inspires you! PBS KANSAS needs you now more than ever! During our membership drive, we will thank you with our special opportunities and deals reserved just for our supporters. Watch Friday, May 26 - Monday, June 12 to enjoy great
programs!

Call the station at 877-491-5787 to show your support. Click here to pledge your support and select your Thank You gift.
See Summerfest '23 full schedule below.
BURT BACAHRACH: A LIFE IN SONG
Wednesday, June 7 @ 7 p.m.
THE FAMILY DINNER TABLE WITH SUSAN PETERS - THE BEST OF VOL. I
Thursday, June 8 @ 7 p.m.
KATY PERRY: THE PRISMATIC WORLD TOUR
Thursday, June 8 @ 9 p.m.
PBS KANSAS Summerfest 2023 Full Schedule 8.1/ Cox 8
Friday, May 26, 8.1
| | |
| --- | --- |
| NOON | The Collagen Diet with Dr. Josh Axe |
| 2:00PM | Aging Backwards 4: The Miracle of Flexibility with Miranda Esmond-White |
| 3:00 - 8:00PM | Regular Programming |
| 8:00PM | Great Performances: Andrea Bocelli: Believe |
| 9:30PM | Celine Dion: Taking Chances World Tour - The Concert |
| 11:00PM | Secrets To Pain-Free Sitting with Esther Gokhale |
Saturday, May 27, 8.1
| | |
| --- | --- |
| 8:00AM | All Creatures Great and Small: You've Got to Dream |
| 9:15AM | All Creatures Great and Small: Another Farnon? |
| 10:30AM | All Creatures Great and Small: Andante |
| 11:45AM | All Creatures Great and Small: A Tricki Case |
| 1:00PM | All Creatures Great and Small: All's Fair |
| 2:15PM | All Creatures Great and Small: A Cure For All Ills |
| 3:30PM | All Creatures Great and Small: The Night Before Christmas |
| 5:00PM | Tom Jones - Episode 1 |
| 6:15PM | Tom Jones - Episode 2 |
| 7:30PM | Tom Jones - Episode 3 |
| 8:45PM | Tom Jones - Episode 4 |
| 10:00PM | Billy Joes: Live at Yankee Stadium |
Sunday, May 28, 8.1
| | |
| --- | --- |
| 8:00AM | All Creatures Great and Small: Where The Heart Is |
| 9:15AM | All Creatures Great and Small: Semper Progrediens |
| 10:30AM | All Creatures Great and Small: We Can But Hope |
| 11:45AM | All Creatures Great and Small: Many Happy Returns |
| 1:00 - 1:30PM | Regular Programming |
| 1:30PM | All Creatures Great and Small: The Last Man In |
| 2:45PM | All Creatures Great and Small: Home Truths |
| 4:00PM | All Creatures Great and Small: The Perfect Christmas |
| 5:30PM | All Creatures Great and Small: The Next Chapter |
| 7:00 - 8:30PM | Regular Programming |
| 8:30PM | Elvis Presley: '68 Comeback Special |
| 10:00PM | Peter Frampton at Royal Albert Hall |
Monday, May 29, 8.1
| | |
| --- | --- |
| NOON | John Denver's Rocky Mountain High |
| 1:30PM | Last of the Breed |
| 3:00 - 7:00PM | Regular Programming |
| 7:00PM | Tommy Emmanuel, CGP: Accomplice Live! |
| 8:30PM | The Doobie Brothers with Michael McDonald: 50th Anniversary at Radio City |
| 10:00PM | Nitty Gritty Dirt Band - The Hits, The History & Dirt Does Dylan |
Tuesday, May 30, 8.1
| | |
| --- | --- |
| NOON | The Path To Happily Ever After with Rajiv Nagaich |
| 1:30PM | Just One Thing with Steven Gundry, MD |
| 3:00 - 7:00PM | Regular Programming |
| 7:00PM | Wichita: The Air Capital |
| 10:00 - 11:00PM | Regular Programming |
| 11:00PM | Aging Backwards 4: The Miracle of Flexibility with Miranda Esmond-White |
Wednesday, May 31, 8.1
| | |
| --- | --- |
| NOON | Young Forever with Mark Hyman, MD |
| 2:00PM | Yellowstone Symphony |
| 3:00 - 7:00PM | Regular Programming |
| 7:00PM | Kansas From Above |
| 9:00PM | Kansas Wild Edge |
| 10:30PM | Rick Steves' Festive Europe |
| 11:00PM | Rick Steves Why We Travel |
Thursday, June 1, 8.1
| | |
| --- | --- |
| NOON | Memory Makeover with Daniel Amen, MD |
| 2:00PM | Secrets to Pain-Free Sitting with Esther Gokhale |
| 3:00 - 7:00PM | Regular Programming |
| 7:00PM | Joyland: Reliving The Memories |
| 9:00PM | Daniel Emmet & Pia Toscano: Simply The Best |
| 10:30PM | Yellowstone Symphony |
Friday, June 2, 8.1
| | |
| --- | --- |
| NOON | The Great Age Reboot |
| 2:00PM | Aging Backwards 4: The Miracle of Flexibility with Miranda Esmond-White |
| 3:00 - 8:00PM | Regular Programming |
| 8:00PM | American Masters: Little Richard: The King and Queen of Rock and Roll |
| 10:00PM | Roy Orbison & Friends - A Black & White Night |
Saturday, June 3, 8.1
| | |
| --- | --- |
| 8:00AM | Young Forever with Mark Hyman, MD |
| 10:00AM | Memory Makeover with Daniel Amen, MD |
| Noon | Just One Thing with Steven Gundry, MD |
| 1:30PM | The Path to Happily Ever After with Rajiv Nagaich |
| 3:00PM | Daniel Emmet & Pia Toscano: Simply The Best |
| 4:30PM | Daniel O'Donnell from Castlebar, Ireland |
| 6:00PM | From The Heart: A Tribute to Lawrence Welk & The American Dream |
| 8:00PM | Doc Martin: Ever After |
| 10:00PM | Aging Breakthrough with Dr. Kellyann |
Sunday, June 4, 8.1
| | |
| --- | --- |
| 8:00AM | The Great Age Reboot |
| 10:00AM | The Collagen Diet with Dr. Josh Axe |
| Noon | All Creatures Great and Small: Second Time Lucky |
| 1:15PM | All Creatures Great and Small: Honeymoon's Over |
| 2:30PM | All Creatures Great and Small: Surviving Siegfried |
| 3:45PM | All Creatures Great and Small: What A Balls Up! |
| 5:00PM | All Creatures Great and Small: Edward |
| 6:15PM | All Creatures Great and Small: For Whom The Bell Tolls |
| 7:30PM | All Creatures Great and Small: Merry Bloody Christmas |
| 9:00PM | Grantchester: Investigating Life's Mysteries |
| 10:30PM | Memory Makeover with Daniel Amen, MD |
Monday, June 5, 8.1
| | |
| --- | --- |
| NOON | Memory Makeover with Daniel Amen, MD |
| 2:00PM | Secrets to Pain-Free Sitting with Esther Gokhale |
| 3:00 - 6:00PM | Regular Programming |
| 6:00PM | PBS Newshour |
| 7:00PM | Antiques Roadshow: Little Rock, Hour Three |
| 8:30PM | Death in Paradise |
| 10:00PM | Foreigner: Double Vision - Then & Now |
Tuesday, June 6, 8.1
| | |
| --- | --- |
| NOON | The Great Age Reboot |
| 2:00PM | Aging Backwards 4: The Miracle of Flexibility with Miranda Esmond-White |
| 3:00 - 6:00PM | Regular Programming |
| 6:00PM | PBS Newshour |
| 7:00PM | Historic Buildings of Kansas Part 3 |
| 9:00PM | Carole King: Home Again - Live in Central Park |
| 10:30PM | Molly Tuttle and Golden Highway Live in Nashville |
Wednesday, June 7, 8.1
| | |
| --- | --- |
| NOON | Gut Check: HOPE for Ultimate Health with Brenda Watson |
| 1:30PM | Time Management for the Busy Senior with Greg Cole |
| 3:00 - 6:00PM | Regular Programming |
| 6:00PM | PBS Newshour |
| 7:00PM | Burt Bacharach: A Life in Song |
| 8:30PM | Elvis Costello/Burt Bacharach: Sessions at West 54th |
| 10:00PM | Mavis Staples at Symphony Center, Chicago |
Thursday, June 8, 8.1
| | |
| --- | --- |
| NOON | Yellowstone Symphony |
| 1:00PM | Young Forever with Mark Hyman, MD |
| 3:00 - 6:00PM | Regular Programming |
| 6:00PM | PBS Newshour |
| 7:00PM | Family Dinner Table with Susan Peters: The Best of Vol. 1 |
| 9:00PM | Katy Perry: The Prismatic World Tour |
| 10:30PM | Celine Dion: Taking Chances World Tour - The Concert |
Friday, June 9, 8.1
| | |
| --- | --- |
| NOON | The Path to Happily Ever After with Rajiv Nagaich |
| 1:30PM | Just One Thing with Steven Gundry, MD |
| 3:00 - 6:00PM | Regular Programming |
| 6:00PM | PBS Newshour |
| 7:00 - 8:00PM | Regular Programming |
| 8:00PM | Bob Dylan - Shadow Kingdom |
| 10:00PM | Santana Live at the US Festival |
Saturday, June 10, 8.1
| | |
| --- | --- |
| 8:00AM | The Collagen Diet with Dr. Josh Axe |
| 10:00AM | The Great Age Reboot |
| Noon | Aging Breakthrough with Dr. Kellyann |
| 2:00PM | Yellowstone Symphony |
| 3:00PM | Burt Bacharach: A Life in Song |
| 4:30PM | Elvis Costello/Burt Bacharach: Sessions at West 54th |
| 6:00PM | From The Heart: A Tribute to Lawrence Welk & The American Dream |
| 8:00PM | Doc Martin: The Wrong Goodbye |
| 10:00PM | Carole King: Home Again - Live in Central Park |
Sunday, June 11, 8.1
| | |
| --- | --- |
| 8:00AM | Just One Thing with Steven Gundry, MD |
| 9:30PM | The Path to Happily Ever After with Rajiv Nagaich |
| 11:00AM | Young Forever with Mark Hyman, MD |
| 1:00PM | Memory Makeover with Daniel Amen, MD |
| 3:00PM | Daniel O'Donnell from Castlebar, Ireland |
| 4:30PM | John Denver's Rocky Mountain High |
| 6:00PM | Historic Buildings of Kansas Part 3 |
| 8:00PM | Morse & The Last Endeavour: A Masterpiece Mystery! Special |
| 9:30PM | Foreigner: Double Vision - Then & Now |
| 11:00PM | Secrets to Pain-Free Sitting with Esther Gokhale |
Monday, June 12, 8.1
| | |
| --- | --- |
| NOON | Memory Makeover with Daniel Amen, MD |
| 2:00PM | Gut Check: HOPE for Ultimate Health with Brenda Watson |
| 3:00 - 7:00PM | Regular Programming |
| 7:00PM | Family Dinner Table with Susan Peters: The Best of Vol. 1 |
PBS KANSAS Summerfest 2023 Full Schedule 8.2/ Cox 671
Friday, May 26, 8.2
| | |
| --- | --- |
| Noon | Young Forever with Mark Hyman, MD |
| 2:00PM | Yellowstone Symphony |
| 3:00 - 6:00PM | Regular Programming |
| 6:00PM | Billy Joel: Live at Yankee Stadium |
| 8:00PM | Elvis Presley: '68 Comeback Special |
| 9:30PM | The Seven Ages of Elvis |
Saturday, May 27, 8.2
| | |
| --- | --- |
| 8:00AM | Young Forever with Mark Hyman, MD |
| 10:00AM | Memory Makeover with Daniel Amen, MD |
| Noon | Just One Thing with Steven Gundry |
| 1:30PM | The Path to Happily Ever After with Rajiv Nagaich |
| 3:00PM | The Collagen Diet with Josh Axe |
| 4:30PM | Daniel O'Donnell from Castlebar, Ireland |
| 6:00PM | Daniel Emmet & Pia Toscano, Simply the Best |
| 7:30PM | Elvis Costello/ Burt Bacharach: Sessions at West 54th |
| 9:00PM | Nitty Gritty Dirt Band - The Hits, The History & Dirt Does Dylan |
| 10:30PM | John Denver's Rocky Mountain High |
Sunday, May 28, 8.2
| | |
| --- | --- |
| 8:00AM | The Great Age Reboot |
| 10:00AM | Gut Check: HOPE for Ultimate Health with Brenda Watson |
| 11:30AM | Time Management For The Busy Senior with Greg Cole |
| 1:00PM | Aging Backwards 4: The Miracle of Flexibility with Miranda Esmonde-White |
| 2:00PM | Secrets to Pain-Free Sitting with Esther Gokhale |
| 3:00PM | Rick Steves Festive Europe |
| 3:30PM | Rick Steves Island Hopping Europe |
| 4:00PM | Rick Steves Why We Travel |
| 5:00PM | Yellowstone Symphony |
| 6:00PM | Great Performances: Andrea Bocelli: Believe |
| 7:30PM | Celine Dion: Taking Chances World Tour - The Concert |
| 9:00PM | Tommy Emmanuel, CGP: Accomplice Live! |
| 10:30PM | The Doobie Brothers with Michael McDonald: 50th Anniversary at Radio City Music Hall |
Monday, May 29, 8.2
| | |
| --- | --- |
| NOON | Les Miserables: The Staged Concert |
| 3:30 - 6:00PM | Regular Programming |
| 6:00PM | Tom Jones - Episode 1 |
| 7:15PM | Tom Jones - Episode 2 |
| 8:30PM | Tom Jones - Episode 3 |
| 9:45PM | Tom Jones - Episode 4 |
| 11:00PM | Yellowstone Symphony |
Tuesday, May 30, 8.2
| | |
| --- | --- |
| NOON | Elvis Presley: '68 Comeback Special |
| 1:30PM | The Seven Ages of Elvis |
| 3:30 - 6:00PM | Regular Programming |
| 6:00PM | Aging Backwards 4: The Miracle of Flexibility with Miranda Esmonde-White |
| 7:00PM | Wichita: The Air Capital |
| 10:00PM | Legends of The Sky: The Liberty Plane |
| 11:00PM | Rick Steves Why We Travel |
Wednesday, May 31, 8.2
| | |
| --- | --- |
| NOON | Celine Dion: Taking Chances World Tour - The Concert |
| 1:30PM | Billy Joel: Live at Yankee Stadium |
| 3:30 - 6:00PM | Regular Programming |
| 6:00PM | Rick Steves Why We Travel |
| 7:00PM | Kansas From Above |
| 9:00PM | Kansas Wild Edge |
| 10:30PM | Memory Makeover with Daniel Amen, MD |
Thursday, June 1, 8.2
| | |
| --- | --- |
| NOON | Tommy Emmanuel, CGP: Accomplice LIVE! |
| 1:30PM | The Doobie Brothers with Michael McDonald: 50th Anniversary at Radio City Music Hall |
| 3:00 - 6:00PM | Regular Programming |
| 6:00PM | Secrets to Pain Free Sitting with Esther Gokhale |
| 7:00PM | Joyland: Reliving The Memories |
| 9:00PM | John Denver's Rocky Mountain High |
| 10:30PM | Last of the Breed |
Friday, June 2, 8.2
| | |
| --- | --- |
| NOON | Daniel Emmet & Pia Toscano: Simply The Best |
| 1:30PM | Great Performances: Andrea Bocelli - Believe |
| 3:00 - 6:00PM | Regular Programming |
| 6:00PM | Rick Steves Festive Europe |
| 8:00PM | Les Miserables: The Staged Concert |
| 10:00PM | American Masters: Little Richard: The King and Queen of Rock and Roll |
Saturday, June 3, 8.2
| | |
| --- | --- |
| 8:00AM | The Collagen Diet with Josh Axe |
| 10:00AM | The Great Age Reboot |
| Noon | Aging Breakthrough with Dr. Kellyann |
| 2:00PM | Yellowstone Symphony |
| 3:00PM | Burt Bacharach: A Life in Song |
| 4:30PM | Elvis Costello/Burt Bacharach: Sessions at West 54th |
| 6:00PM | From The Heart: A Tribute to Lawrence Welk & The American Dream |
| 8:00PM | Doc Martin: Ever After |
| 10:00PM | Carole King: Home Again - Live in Central Park |
Sunday, June 4, 8.2
| | |
| --- | --- |
| 8:00AM | Just One Thing with Steven Gundry |
| 9:30AM | The Path to Happily Ever After with Rajiv Nagaich |
| 11:00AM | Young Forever with Mark Hyman, MD |
| 1:00PM | Memory Makeover with Daniel Amen, MD |
| 3:00PM | Bob Dylan - Shadow Kingdom |
| 5:00PM | All Creatures Great and Small: Edward |
| 6:15PM | All Creatures Great and Small: For Whom The Bell Tolls |
| 7:30PM | All Creatures Great and Small: Merry Bloody Christmas |
| 9:00PM | Foreigner: Double Vision - Then & Now |
| 10:30PM | Santana Live at the US Festival |
Monday, June 5, 8.2
| | |
| --- | --- |
| NOON | Foreigner: Double Vision - Then & Now |
| 1:30PM | Santana live at the US Festival |
| 3:00 - 6:00PM | Regular Programming |
| 6:00PM | Secrets to Pain-Free Sitting with Esther Gokhale |
| 7:00PM | Antiques Roadshow: Little Rock, Hour Three |
| 8:30PM | Death in Paradise |
| 10:00PM | The Great Age Reboot |
Tuesday, June 6, 8.2
| | |
| --- | --- |
| NOON | Carole King: Home Again - Live in Central Park |
| 1:30PM | Molly Tuttle and Golden Highway: Live in Nashville |
| 3:00 - 6:00PM | Regular Programming |
| 6:00PM | Rick Steves Why We Travel |
| 7:00PM | Historic Buildings of Kansas Part 3 |
| 9:00PM | Daniel Emmet & Pia Toscano: Simply The Best |
| 10:30PM | Yellowstone Symphony |
Wednesday, June 7, 8.2
| | |
| --- | --- |
| NOON | Mavis Staples at Symphony Center, Chicago |
| 1:30PM | Daniel Emmet & Pia Toscano: Simply The Best |
| 3:00 - 6:00PM | Regular Programming |
| 6:00PM | Les Miserables: The Staged Concert |
| 9:30PM | Roy Orbison & Friends - A Black & White Night |
| 11:00PM | Rick Steves Festive Europe |
| 11:30PM | Rick Steves Island Hopping Europe |
Thursday, June 8, 8.2
| | |
| --- | --- |
| NOON | Burt Bacharach: A Life in Song |
| 1:30PM | Elvis Costello/Burt Bacharach: Sessions at West 54th |
| 3:00 - 6:00PM | Regular Programming |
| 6:00PM | Aging Backwards 4: The Miracle of Flexibility with Miranda Esmonde-White |
| 7:00PM | Family Dinner Table with Susan Peters: The Best of Vol. 1 |
| 9:00PM | Mavis Staples at Symphony Center, Chicago |
| 10:30PM | Memory Makeover with Daniel Amen, MD |
Friday, June 9, 8.2
| | |
| --- | --- |
| NOON | Tommy Emmanuel, CGP: Accomplice Live! |
| 1:30PM | Peter Frampton at Royal Albert Hall |
| 3:00 - 6:00PM | Regular Programming |
| 6:00PM | Carole King: Home Again - Live in Central Park |
| 7:30PM | Molly Tuttle and Golden Highway Live in Nashville |
| 9:00PM | Foreigner: Double Vision - Then & Now |
| 10:30PM | Last of the Breed |
Saturday, June 10, 8.2
| | |
| --- | --- |
| 8:00AM | All Creatures Great and Small: You've Got to Dream |
| 9:15AM | All Creatures Great and Small: Another Farnon? |
| 10:30AM | All Creatures Great and Small: Andante |
| 11:45AM | All Creatures Great and Small: A Tricki Case |
| 1:00PM | All Creatures Great and Small: All's Fair |
| 2:15PM | All Creatures Great and Small: A Cure For All Ills |
| 3:30PM | All Creatures Great and Small: The Night Before Christmas |
| 5:00PM | Yellowstone Symphony |
| 6:00PM | From The Heart: A Tribute to Lawrence Welk & The American Dream |
| 8:00PM | Doc Martin: The Wrong Goodbye |
| 10:00PM | Peter Frampton at Royal Albert Hall |
Sunday, June 11, 8.2
| | |
| --- | --- |
| 8:00AM | All Creatures Great and Small: Where The Heart Is |
| 9:15AM | All Creatures Great and Small: Semper Progrediens |
| 10:30AM | All Creatures Great and Small: We Can But Hope |
| 11:45AM | All Creatures Great and Small: Many Happy Returns |
| 1:00PM | All Creatures Great and Small: The Last Man In |
| 2:15PM | All Creatures Great and Small: Home Truths |
| 3:30PM | All Creatures Great and Small: The Perfect Christmas |
| 5:00PM | Rick Steves Why We Travel |
| 6:00PM | Historic Buildings of Kansas Part 3 |
| 8:00PM | Morse & The Last Endeavour: A Masterpiece Mystery! Special |
| 9:30PM | Memory Makeover with Daniel Amen, MD |
Monday, June 12, 8.2
| | |
| --- | --- |
| NOON | The Collagen Diet with Josh Axe, MD |
| 1:30PM | Time Management for the Busy Senior with Greg Cole |
| 3:00 - 6:00PM | Regular Programming |
| 6:00PM | Rick Steves Festive Europe |
| 6:30PM | Rick Steves Island Hopping Europe |
| 7:00PM | Family Dinner Table with Susan Peters: The Best of Vol. 1 |
| 9:00PM | American Masters: Little Richard: The King and Queen of Rock and Roll |