Fall Membership Drive 2022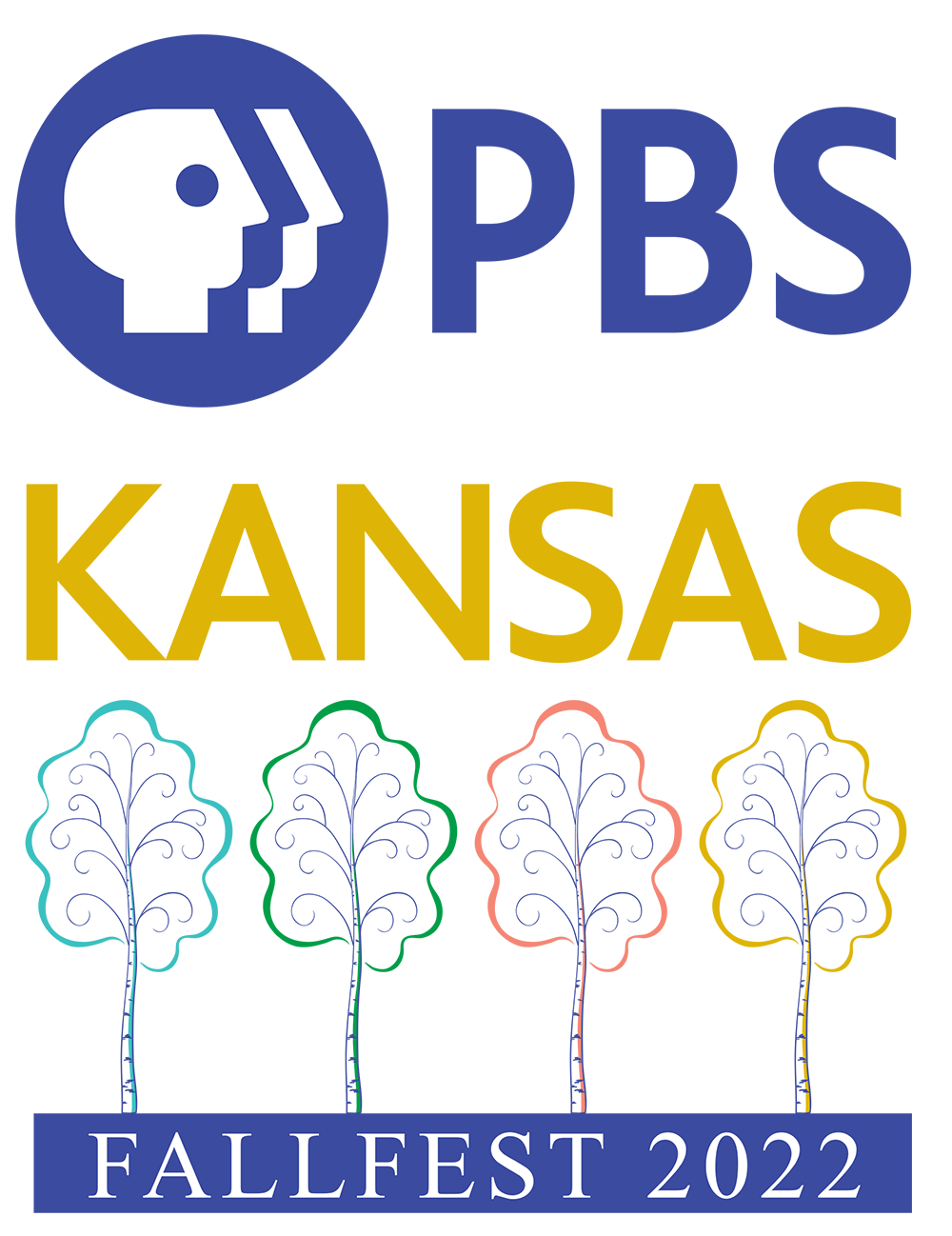 The PBS KANSAS Fallfest 2022 Membership Drive is the perfect time to show your support and become a SUSTAINER of the one place that inspires you to BE MORE!
Watch Friday, August 19 - Tuesday, September 6 to enjoy great
programs!

Call the station at 877-491-5787 to show your support.
Click here to pledge your support and select your Thank You gift.
See Fallfest '22 full schedule below.
PBS KANSAS Fallfest 2022 Full Schedule 8.1/ Cox 8
Friday, August 19, 8.1
| | |
| --- | --- |
| NOON | The Music of Lerner & Loewe: I Could have Danced All Night: A Broadway Concert |
| 1:30PM | On Broadway |
| 3:00 - 8:00PM | Regular Programming |
| 8:00PM | Frankie Valli & The Four Seasons: A Life On Stage |
| 9:30PM | Doo Wop, Pop and Soul Generations (My Music) |
Saturday, August 20, 8.1
| | |
| --- | --- |
| 8:00AM | Secrets to Pain-Free Sitting with Esther Gokhale |
| 9:00AM | Build A Better Memory Through Science |
| 11:00AM | Eat Your Medicine: The Pegan Diet with Mark Hyman, MD |
| 1:00PM | You, Happier with Daniel Amen, MD |
| 3:00PM | Paul Anka Sings Sinatra |
| 4:30PM | Leonard Cohen: Dance Me - Ballets Jazz De Montreal |
| 6:00PM | The Lawrence Welk Show - Carnival |
| 7:30PM | As Time Goes By |
| 8:00PM | Doc Martin - On The Edge, Part 1 |
| 9:30PM | The Goes Wrong Show - Summer Once Again |
| 10:30PM | David Bowie: Serious Moonlight |
Sunday, August 21, 8.1
| | |
| --- | --- |
| 8:00AM | Aging Backwards 2: Connective Tissue Revealed with Miranda Esmonde-White |
| 9:00AM | Unlock The Secret to Extraordinary Health with David Perlmutter, MD |
| 10:30AM | Ed Slott's Retirement Freedom! |
| Noon | Clint Black: Mostly Hits & The Mrs. |
| 1:30PM | Last of the Breed |
| 3:00PM | The Doo Wop Project |
| 4:30PM | Doo Wop, Pop and Soul Generations (My Music) |
| 7:00PM | Around The World In 80 Days: Unpacking the Adventure |
| 8:00PM | All Creatures Great and Small: The Next Chapter |
| 9:30PM | You, Happier with Daniel Amen, MD |
| 11:30PM | Rewilding A Mountain |
Monday, August 22, 8.1
| | |
| --- | --- |
| NOON | You, Happier with Daniel Amen, MD |
| 2:00PM | Secrets to Pain-Free Sitting with Esther Gokhale |
| 3:00 - 7:00PM | Regular Programming |
| 7:00PM | Antiques Roadshow - Junk in the Trunk 8 |
| 8:30PM | Death In Paradise - Damned If You Do... |
| 10:00PM | Coldplay: Live In Sao Paulo |
Tuesday, August 23, 8.1
| | |
| --- | --- |
| NOON | Eat Your Medicine: The Pegan Diet with Mark Hyman, MD |
| 2:00PM | Yellowstone Symphony |
| 3:00 - 7:00PM | Regular Programming |
| 7:00PM | Joe Bonamassa: Live at the Greek Theatre |
| 8:30PM | Joe Bonamassa: Live at Carnegi Hall - An Acoustic Evenging |
| 10:00PM | Bela Fleck: My Bluegrass Heart |
Wednesday, August 24, 8.1
| | |
| --- | --- |
| NOON | Build A Better Memory Through Science |
| 2:00PM | Aging Backwards 2: Connective Tissue Revealed with Miranda Esmonde-White |
| 3:00 - 7:00PM | Regular Programming |
| 7:00PM | Yellowstone Symphony |
| 8:00PM | Chris Botti & The Dallas Symohony |
| 9:30PM | Doo Wop, Pop and Soul Generations (My Music) |
Thursday, August 25, 8.1
| | |
| --- | --- |
| NOON | The Queen's Garden |
| 1:30PM | Rick Steves' Festive Europe |
| 2:00PM | Rick Steves Why We Travel |
| 3:00 - 7:00PM | Regular Programming |
| 7:00PM | Little Feat - Celebrating Waiting for Columbus at the Ryman |
| 9:00PM | 20 Things to Do In Midsomer...Before You Die |
| 10:30PM | Frankie Valli & The Four Seasons: A Life On Stage |
Friday, August 26, 8.1
| | |
| --- | --- |
| NOON | Leonard Cohen: Dance Me - Ballets Jazz |
| 1:30PM | Paul Anka Sings Sinatra |
| 3:00 - 9:30PM | Regular Programming |
| 9:30PM | Clint Black: Mostly Hits & The Mrs. |
| 11:00PM | Last of the Breed |
Saturday, August 27, 8.1
| | |
| --- | --- |
| 8:00AM | The Queen's Garden |
| 9:30AM | Rick Steves' Festive Europe |
| 10:00AM | Yellowstone Symphony |
| 11:00AM | Chris Botti & The Dallas Symphony Orchestra |
| 12:30PM | The Doo Wop Project |
| 2:00PM | Doo Wop, Pop and Soul Generations (My Music) |
| 4:30PM | Frankie Valli & The Four Seasons: A Life On Stage |
| 6:00PM | The Lawrence Welk Show - Henry Mancini - Johnny Mercer |
| 7:30PM | Keeping Up Appearances - A Celebrity for the Barbecue |
| 8:00PM | Father Brown - The Honourable Thief |
| 9:30PM | My Family - Driving Miss Crazy |
| 10:30PM | David Bowie: Serious Moonlight |
Sunday, August 28, 8.1
| | |
| --- | --- |
| 8:00AM | Eat Your Medicine: The Pegan Diet with Mark Hyman, MD |
| 10:00AM | You, Happier with Daniel Amen, MD |
| Noon | Build A Better Memory Through Science |
| 2:00PM | Regular Programming |
| 2:30PM | Leonard Cohen: Dance Me - Ballets Jazz De Montreal |
| 4:00PM | The Music of Lerner & Loewe: I Could have Danced All Night: A Broadway Concert |
| 5:30PM | On Broadway |
| 7:00PM - 10:00PM | Regular Programming |
| 10:00PM | Build A Better Memory Through Science |
Monday, August 29, 8.1
| | |
| --- | --- |
| NOON | Aging Backwards 2: Connective Tissue Revealed with Miranda Esmonde-White |
| 1:00PM | Build A Better Memory Through Science |
| 3:00 - 7:00PM | Regular Programming |
| 7:00PM | Antiques Roadshow - Philbrook Museum, Hour 2 |
| 8:30PM | Death In Paradise - Until Death Do You Part |
| 10:00PM | Patrizio Buanne: Celebration! |
Tuesday, August 30, 8.1
| | |
| --- | --- |
| NOON | The Queen's Garden |
| 1:30PM | Rick Steves' Festive Europe |
| 2:00PM | Rick Steves Why We Travel |
| 3:00 - 7:00PM | Regular Programming |
| 7:00PM | Joyland: Reliving The Memories |
| 9:00PM | Rise of the Bolsonaros |
| 11:00PM | Frankie Valli & The Four Seasons: A Life On Stage |
Wednesday, August 31, 8.1
| | |
| --- | --- |
| NOON | Secrets to Pain-Free Sitting with Esther Gokhale |
| 1:00PM | You, Happier with Daniel Amen, MD |
| 3:00 - 7:00PM | Regular Programming |
| 7:00PM | Rick Steves' Europe: Great German Cities |
| 9:00PM | Rick Steves Fascism In Europe |
| 10:30PM | Rick Steves' Travel As A Political Act |
PBS KANSAS Fallfest 2022 Full Schedule 8.2/ Cox 671
Friday, August 19, 8.2
| | |
| --- | --- |
| NOON | Paul Anka Sings Sinatra |
| 1:30PM | Leonard Cohen: Dance Me - Ballets Jazz De Montreal |
| 3:00 - 6:00PM | Regular Programming |
| 6:00PM | Build A Better Memory Through Science |
| 8:00PM | Eat Your Medicine: The Pegan Diet with Mark Hyman, MD |
| 10:00PM | You, Happier with Daniel Amen, MD |
Saturday, August 20, 8.2
| | |
| --- | --- |
| 8:00AM | The Queen's Garden |
| 9:30AM | Rick Steves' Festive Europe |
| 10:00AM | Yellowstone Symphony |
| 11:00AM | Chris Botti & The Dallas Symphony Orchestra |
| 12:30PM | The Doo Wop Project |
| 2:00PM | Doo Wop, Pop and Soul Generations (My Music) |
| 4:30PM | Frankie Valli & The Four Seasons: A Life On Stage |
| 6:00PM | The Lawrence Welk Show - Carnival |
| 7:30PM | As Time Goes By |
| 8:00PM | Doc Martin - On The Edge, Part 1 |
| 9:30PM | The Goes Wrong Show - Summer Once Again |
| 10:30PM | Bela Fleck: My Bluegrass Heart |
Sunday, August 21, 8.2
| | |
| --- | --- |
| 8:00AM | Aging Backwards 2: Connective Tissue Revealed with Miranda Esmonde-White |
| 10:00AM | You, Happier with Daniel Amen, MD |
| Noon | Build A Better Memory Through Science |
| 2:00PM | Wicked In Concert |
| 4:00PM | The Music of Lerner & Loewe: I Could Have Danced All Night: A Broadway Concert |
| 5:30PM | On Broadway |
| 7:00PM | Patrizio Buanne: Celebration! |
| 8:30PM | Leonard Cohen: Dance Me - Ballets Jazz De Montreal |
| 10:00PM | Build A Better Memory Through Science |
Monday, August 22, 8.2
| | |
| --- | --- |
| NOON | Aging Backwards 2: Connective Tissue Revealed with Miranda Esmonde-White |
| 1:00PM | Build A Better Memory Through Science |
| 3:00 - 6:00PM | Regular Programming |
| 6:00PM | Rick Steves Why We Travel |
| 7:00PM | Antiques Roadshow - Junk In The Trunk 8 |
| 8:30PM | Death In Paradise - Damned If You Do... |
| 10:00PM | All Creatures Great and Small: The Next Chapter |
Tuesday, August 23, 8.2
| | |
| --- | --- |
| NOON | The Queen's Garden |
| 1:30PM | Rick Steves' Festive Europe |
| 2:00PM | Rick Steves Why We Travel |
| 3:00 - 7:00PM | Regular Programming |
| 7:00PM | Joe Bonamassa: Live at the Greek Theatre |
| 8:30PM | Joe Bonamassa: Live at Carnegi Hall - An Acoustic Evenging |
| 10:00PM | Little Feat - Celebrating Waiting for Columbus at the Ryman |
Wednesday, August 24, 8.2
| | |
| --- | --- |
| NOON | Secrets to Pain-Free Sitting with Esther Gokhale |
| 1:00PM | You, Happier with Daniel Amen, MD |
| 3:00 - 6:00PM | Regular Programming |
| 6:00PM | Secrets to Pain-Free Sitting with Esther Gokhale |
| 7:00PM | Rick Steves Fascism In Europe |
| 8:30PM | Rick Stevs' Travel As A Political Act |
| 10:00PM | Rick Steves Why We Travel |
| 11:00PM | Yellowstone Symphony |
Thursday, August 25, 8.2
| | |
| --- | --- |
| NOON | Last of the Breed |
| 1:30PM | Clint Black: Mostly Hits & The Mrs. |
| 3:00 - 7:00PM | Regular Programming |
| 7:00PM | Little Feat - Celebrating Waiting for Columbus at the Ryman |
| 9:00PM | 20 Things to Do In Midsomer...Before You Die |
| 10:30PM | Patrizio Buanne: Celebration! |
Friday, August 26, 8.2
| | |
| --- | --- |
| NOON | Yellowstone Symphony |
| 1:00PM | Eat Your Medicine: The Pegan Diet with Mark Hyman, MD |
| 3:00 - 6:00PM | Regular Programming |
| 6:00PM | Around the World In 80 Days: Unpacking The Adventure |
| 7:00PM | Frankie Vallie & The Four Seasons: A Life On Stage |
| 8:30PM | Doo Wop, Pop and Soul Generations (My Music) |
| 11:00PM | Secrets to Pain-Free Sitting with Esther Gokhale |
Saturday, August 27, 8.2
| | |
| --- | --- |
| 8:00AM | Secrets to Pain-Free Sitting with Esther Gokhale |
| 9:00AM | Build A Better Memory Through Science |
| 11:00AM | Eat Your Medicine: The Pegan Diet with Mark Hyman, MD |
| 1:00PM | You, Happier with Daniel Amen, MD |
| 3:00PM | Paul Anka Sings Sinatra |
| 4:30PM | Leonard Cohen: Dance Me - Ballets Jazz De Montreal |
| 6:00PM | The Lawrence Welk Show - Henry Mancini - Johnny Mercer |
| 7:30PM | Keeping Up Appearances - A Celebrity for the Barbecue |
| 8:00PM | Father Brown - The Honourable Thief |
| 9:30PM | My Family - Driving Miss Crazy |
| 10:30PM | Bela Fleck: My Bluegrass Heart |
Sunday, August 28, 8.2
| | |
| --- | --- |
| 8:00AM | Aging Backwards 2: Connective Tissue Revealed with Miranda Esmonde-White |
| 9:00AM | Unlock The Secret to Extraordinary Health with David Perlmutter, MD |
| 10:30AM | Ed Slott's Retirement Freedom! |
| Noon | Clint Black: Mostly Hits & The Mrs. |
| 1:30PM | Last of the Breed |
| 3:00PM | The Doo Wop Project |
| 4:30PM | Doo Wop, Pop and Soul Generations (My Music) |
| 7:00PM | Around the World in 80 Days: Unpacking The Adventure |
| 8:00PM | All Creatures Great and Small: The Next Chapter |
| 9:30PM | You, Happier with Daniel Amen, MD |
Monday, August 29, 8.2
| | |
| --- | --- |
| NOON | You, Happier with Daniel Amen, MD |
| 2:00PM | Secrets to Pain-Free Sitting with Esther Gokhale |
| 3:00 - 6:00PM | Regular Programming |
| 6:00PM | Secrets to Pain-Free Sitting with Esther Gokhale |
| 7:00PM | Antiques Roadshow - Philbrook Museum Hour 2 |
| 8:30PM | Death In Paradise - Until Death Do You Part |
| 10:00PM | The Queen's Garden |
Tuesday, August 30, 8.2
| | |
| --- | --- |
| NOON | Eat Your Medicine: The Pegan Diet with Mark Hyman, MD |
| 2:00PM | Yellowstone Symphony |
| 3:00 - 6:00PM | Regular Programming |
| 6:00PM | Around The World In 80 Days: Unpacking The Adventure |
| 7:00PM | Joyland: Reliving The Memories |
| 9:00PM | Coldplay: Live In Sao Paulo |
| 11:00PM | Yelowstone Symphony |
Wednesday, August 31, 8.2
| | |
| --- | --- |
| NOON | Build A Better Memory Through Science |
| 2:00PM | Aging Backwards 2: Connective Tissue Revealed with Miranda Esmonde-White |
| 3:00 - 6:00PM | Regular Programming |
| 7:00PM | Rick Steves Why We Travel |
| 7:00PM | Rick Steves' Europe: Great German Cities |
| 9:00PM | Rick Steves Fascism In Europe |
| 10:30PM | Cheis Botti & The Dallas Symphony Orchestra |