COCHENER-GARVEY CHILDREN'S EDUCATION & DISCOVERY CENTER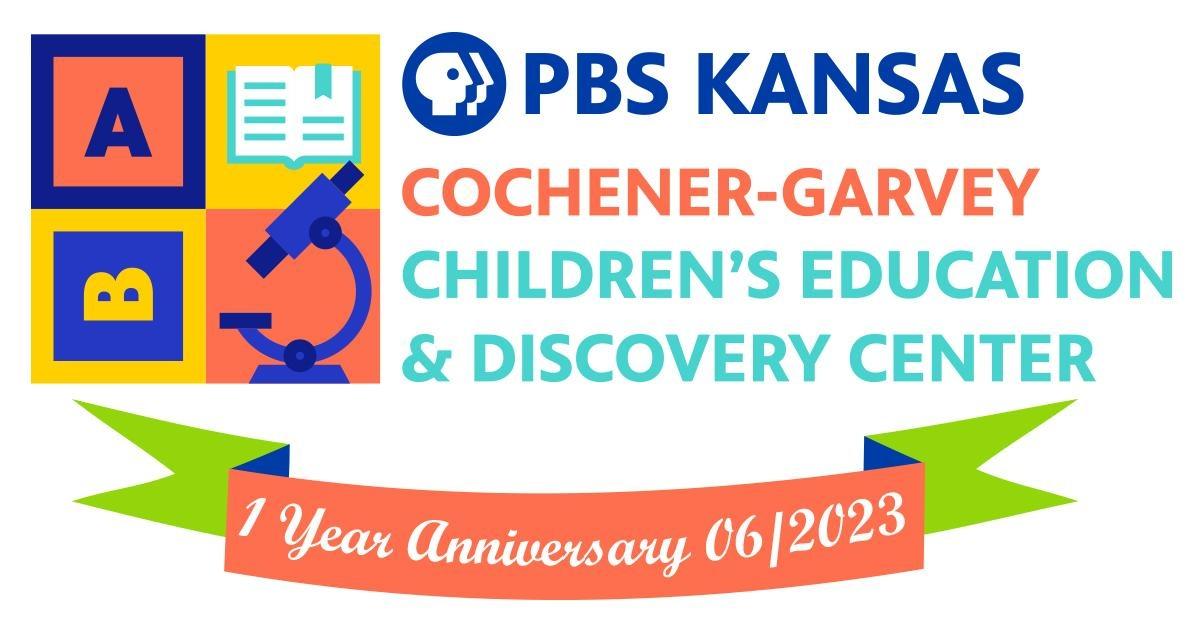 Located inside PBS Kansas Channel 8, 8710 E. 32nd Street North, Wichita, KS 67226
FREE ADMISSION
10 a.m. - 4 p.m.
Introducing the new Education Center t-shirts.
Sign our Memory Board
Record a video message.
Take-home treats
Special Opportunities listed below
Plus, all kinds of fun for families at our Construction Corner, Makerspace, Engineering Station, Video Creation Station and more!
Special Opportunities
10:30 a.m. Studio Tours
11 a.m. Storytime with Storytime Village. Chartell Grissom of Storytime Village will read, "Let's go to Storytime Village."
1-2:30 p.m. Animals & Artifacts with Great Plains Nature Center. Katlin Dunsing, Digital Media Lead Naturalist for Great Plains Nature Center, will introduce kids to several native animals and show off cool artifacts.
2:30 p.m. Studio Tours
3 p.m. Drone Demo (weather permitting)
Closed Wednesday, June 7, 10 a.m.-1 p.m.
Closed Tuesday, June 13, 10 a.m.-1 p.m.
Closed Friday, June 23, 10 a.m.-1 p.m.
Closed Friday, June 30, 10 a.m.-1 p.m.
Thanks for visiting our site! We're glad you are interested in learning about the PBS Kansas Cochener-Garvey Children's Education & Discovery Center. The Education Center focuses on STEAM-based learning (science, technology, engineering, the arts and mathematics) for children 2-10 years old and their families. Kids of all ages, however, have fun and benefit from visiting the center.
It is free and open weekdays from 10 a.m.-4 p.m. and is located at 8710 E. 32nd St. N., Wichita, Kansas.
The Education Center incorporates trusted PBS KIDS educational content to encourage creativity, improve social & emotional skills, build critical thinking, boost curiosity and more! It features hands-on and interactive Discovery Stations, including:
Construction Corner – Rock discovery, construction toys and kinetic sand
Makerspace - Crafting area, beading table, 3D printer and VEX robot
Video Creation Station – Movie making
Engineering Station – Fort kits, blocks and Magna-Tiles
Weather Station – Kids can record a weather report
Reading & Media Center – Kids can take home a book each time they visit
Little Tiger's Den – Quiet room with train table
And More!
We also offer studio tours, sharing information about broadcast technology and careers. And, field trips are welcome.
Please sign up for our e-newsletter to receive family fun ideas and to learn about special events in the Center. See you soon!
Lynn Woolf, Director of Education
316-838-3090 ext. 233
lwoolf@kpts.org
You can help encourage a child's creativity, confidence and problem-solving skills by offering your financial support to the Education Center. Thank you for making a difference in our community!
Field Trip Destination!
Colwich Elementary students visit the Education Center.
Click here to see photos.
Thank you to everyone who attended the 2022 Kids Big Bash at our new building.
Click here to see photographs from the event.
Thank You PBS Kansas Cochener-Garvey Children's Education & Discovery Center Sponsors!