Contact:
PBS KANSAS Director of Marketing & Promotions, Jennifer Keller
Cell: 316-648-8554 / Office: 316-838-3090
PBS Kansas Channel 8 is On The Move — Open Houses in June
WICHITA, Kan. — PBS Kansas Channel 8 will soon complete the move to its $4.5 million new, 31,000 square-foot headquarters at 8710 E. 32nd St. N., formerly Meritrust Credit Union headquarters. This new building is four times as large as PBS Kansas' current location, and includes the spacious Alvin & RosaLee Sarachek Studio, the Fidelity Bank Foundation Studio and the Sierra P. Scott Green Room. The move is the culmination of 10 years of operation downtown (3rd & Broadway), and the past 42 years in the north end of Wichita (320 W. 21st St. N.).
All Members of PBS Kansas are invited to the open house Thursday, June 23 from 3 to 7 p.m. The public is invited to an open house on Friday, June 24 from 3 to 7 p.m. Families are invited to attend a special open house on Saturday, June 25 from 10 a.m. to 1 p.m. to see the one-of-a-kind, PBS Kansas Cochener-Garvey Children's Education & Discovery Center, the Bonavia Foundation PBS Kansas Museum and the entire facility. The first 300 children to attend Saturday's open house will receive a Think Like Ben Franklin Science-To-Go Kit.
"It took a great deal of hard work, determination and extraordinary support from the community to make this move happen," says Victor Hogstrom, President and CEO, PBS Kansas. "Now, we have great possibilities in the ways we can serve the community – from expanding our local shows to live, town-hall meetings, debates, performance groups, and educating children through our new Children's Education & Discovery Center. We also have community rooms in our new building for meetings or events, including the Alvin & RosaLee Sarachek Studio, the Sedgwick County Community Room, the Alvin Sarachek Board Room, the volunteer and training center and more. As a result, we are looking forward to building many new partnerships."

PBS Kansas currently produces nine local shows, and staff are always working on one or two new documentaries about the communities we serve. This new building will allow PBS Kansas to grow and enhance its popular shows while improving our service to the community and developing new opportunities.
The Cochener-Garvey Children's Education & Discovery Center is among the first of its kind in public television that focuses on STEAM (Science, Technology, Engineering, Art & Mathematics) education and other topics for our youngest learners and their families. The Center will feature hands-on experiments, a makerspace, a media production area, and programs to foster community collaboration. Both the Children's Education & Discovery Center and the PBS Kansas Museum will be FREE and open to the public weekdays.
"I'm very proud of the decisions of the PBS Kansas Board of Trustees in obtaining this new building. It will make a difference for the community. I am also proud of the champion effort our entire staff is putting forth toward the move. It isn't easy to move a television station," says Hogstrom. "From April 18 through April 30, we will broadcast only PBS shows. None of our local shows will be broadcast while we are moving all of our equipment to the new building, and our engineers get everything reconnected. Our children's programming on our main channel and our PBS Kansas Kids 24-7 channel will not be affected. We expect to be back to our regular schedule on May 1."
"Thank You" to These Major Donors for Making This Project Possible:
PBS Kansas thanks the generosity of these donors who made the new PBS Kansas building possible: Alvin & RosaLee Sarachek; Sunderland Foundation; Dwane L. & Velma Lunt Wallace Charitable Foundation; Emily Bonavia; Bruce G. Cochener Foundation; Fidelity Bank Foundation; Sedgwick County; Bonavia Foundation; Anita L. Jones; A & H Electric, Inc.; Berry Family Foundation; The Docking Group/RWBaird PWM; The family of Joyce (Egan) Markley; James H. & Eleanor M. Welch; James H. Welch IV; Richard & Margaret Wieland; Lynn & Don Stephan; Larry & Anna Fralick; The James Garvey Family Charitable Trust; Lamar & Cheryle Henderson; The family of F. David Seaton; TZ Productions; Father Tom Welk; The family of William J. Wesermann; Phil & Lori Richardson; H. Edward & Marla Flentje; Mid-States Fitness Equipment; The Spice Merchant; Howard Charles Hutchison, Sr. & Jr.; Commerce Bancshares Foundation; Sierra P. Scott & Harrison Schenk; A to Z Theatrical Supply & Service; Randy & Katherine Ambrose; Marcia & Ted D. Ayres; Larry Hatteberg; Dr. William & Marlene Hayes; Ray & Wilma McChristian; Sue Najim; Ron & Renae Ryan Susan Peters; and a host of other chartered building contributors.
Public Open House 2
Join us for the public grand opening on Friday, June 24, from 3-7pm.
Family Open House
Join us for the family open house on Saturday, June 25, from 10am-1pm.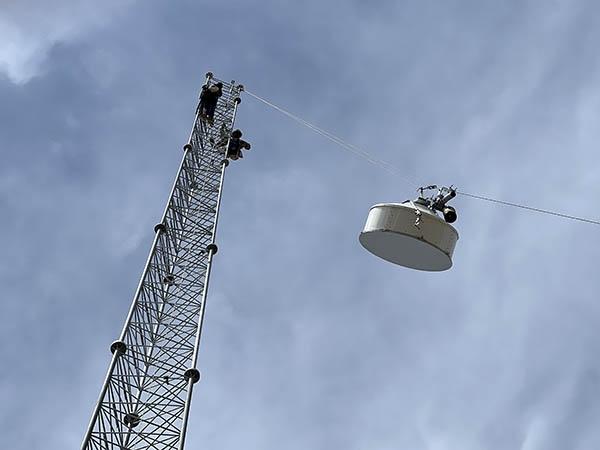 Tower under construction at new building at 8710 E. 32nd St. N., Wichita.
PBS Kansas Honors Four Veterans and One Business at 2021 Veterans Coming Home Salute
WICHITA, Kan. — PBS Kansas Channel 8 honored four veterans and one business at its 7th annual Veterans Coming Home Salute on Nov. 6, 2021 at the Wichita Marriott. This event honored Kansas veterans who demonstrated outstanding service to their country, fellow veterans and their communities. Marri Krupco, Commander, Department of the Kansas American Legion, was the keynote speaker.
"This was a very special evening where we recognized veterans and one business that have changed lives," said Victor Hogstrom, President & CEO at PBS Kansas. "Their service is inspiring and reminds us all that we can make a difference. We did not only share our positive thoughts about veterans, we boldly recognized them for what they have done to protect our democracy and continued a life of service to their communities."
Colonel Robert Hester received the top award, the PBS Kansas Senator Robert J. Dole Distinguished Service Award, and a signed copy of Bob Dole's memoir, "One Soldier's Story." Hester was recognized for his distinguished career in the U.S. Army and influencing the lives of thousands of Wichita students through Junior ROTC in Wichita.
Ronald L. Colbert received the PBS Kansas Spirit AeroSystems Herb Duncan "Can Do Attitude" Award for his service in the U.S. Air Force, the numerous groups he is a part of and especially for his efforts to bring the replica Vietnam Memorial Moving Wall to Valley Center.
John Noonan, U.S. Navy veteran, received the PBS Kansas AgVantis Distinguished Veterans Coming Home Service Award for his tireless commitment to playing TAPS to support Department of Defense military funeral honors.
Pastor Herman Hicks, U.S. Air Force veteran, received the PBS Kansas Distinguished Veterans Coming Home Service Award for his outstanding service in the U.S. Air Force and ministry in the community.
WSU's Veterans Upward Bound received the PBS Kansas Foulston Siefkin LLP Veterans Coming Home Business Award (accepted by Veterans Upward Bound Director Stacia Lyday). This organization was recognized for the exceptional work they do to support veterans in Butler, Harvey and Sedgwick Counties. They work to help these veterans retrain for the workforce and be successful in life.

Thank You to our Sponsors
PBS Kansas thanks the following sponsors of the 2021 Veterans Coming Home Salute: F.H. Kaysing Company, Lattner Family Foundation, Interstate Batteries, American Senior Benefits, Evergy, The Spice Merchant, Building Controls and Services, Spirit AeroSystems, Learjet Employees Care Fund, KSN, Foulston Siefkin LLP, Wichita State University Division of Diversity and Community Engagement Military and Veteran Services, AgVantis, Senator Robert J. Dole, Veterans Upward Bound, AARP Kansas, KOCH, The City of Derby, Sedgwick County and Friend of Veterans.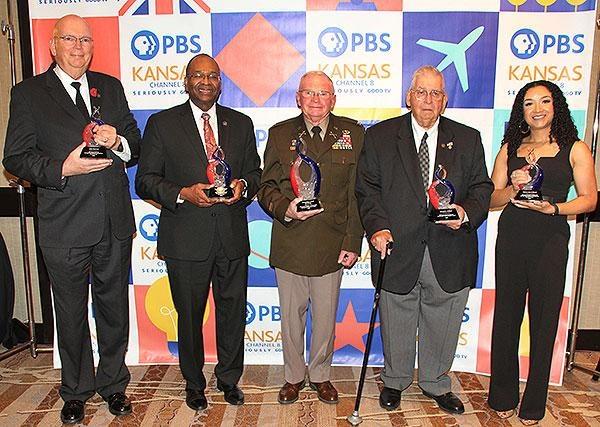 2021 Award Recipients
John Noonan, Pastor Herman Hicks, Colonel Robert Hester, Ronald L. Colbert and Stacia Lyday
PBS KANSAS Moving to New Offices and Studios
WICHITA, Kan. — PBS KANSAS Channel 8 announced today it will relocate its offices and studios to a 31,000 square foot building on 32nd Street North, just off Rock Road. The building previously served as the headquarters of Meritrust Credit Union. This larger, more modern facility will enable Kansas' most-watched public television station to vastly expand its local programming possibilities and community outreach. The 8710 East 32nd Street location also puts PBS Kansas in a more accessible, visible location within the North Rock Road business district and K-96 corridor. PBS KANSAS will begin full operations at the new location by early 2022.
"This is truly a momentous occasion," says PBS KANSAS President and CEO Victor Hogstrom. "Kansans deserve a contemporary, state-of-the-art public television facility that accommodates the technological and workplace demands of the 21st century. It is also essential in providing the kinds of locally-produced programs and educational outreach that present-day public television audiences expect and deserve."
PBS KANSAS, formerly known as KPTS – Channel 8, has been operating out of an 8,000 square-foot former auto parts store near 21st and Waco since 1980. "This location was never ideal, but the PBS KANSAS staff through the years found ways to make it work," Hogstrom says. "When I first walked in the door of PBS KANSAS almost five years ago, I immediately realized we needed a new building. A tiny studio with passing trains interrupting productions, cramped offices, inadequate restroom facilities and a dilapidated exterior have created continual challenges for staff and visitors. This television station belongs to the public. The public has long deserved something better. Now thanks to the generosity of a small group of community-minded donors, the public will get it."
The new PBS KANSAS facility will include two large studios which will accommodate the production of more types of local programs and allow for the possibility of studio audiences. It will also include a Children's Discovery and Education Center that will allow visitors to experience hands-on activities that are fun and engaging and promote lifelong learning. In addition, there will be a PBS KANSAS museum for the public to visit and a community room available for local groups to meet and hold special events.
"Public Television elevates the quality of our society with the kinds of educational and entertainment programming that is only provided by a public, non-profit television station such as PBS KANSAS," Hogstrom adds. He says renovation work to transform the former credit union headquarters into a television station will begin shortly, upon raising additional funds.
The station is offering 25-year naming rights opportunities for sponsorship of various rooms and offices in the new facility. Rooms may be named after a person or company or in memoriam. The sponsor's name will appear on a plaque next to the door of the sponsored room and the actual donor's name will be placed on the PBS KANSAS Wall of Giving in the lobby of the new building. Those individuals who cannot manage the sponsorship of a room, may become a BuildingChartered Contributor, by contributing $1,000 to $2,000 and their names will appear on a perpetual plaque with the names of other Chartered Contributors. This plaque will hang on the wall of the lobby of the new building. All contributions toward the building can be sent to: Building Fund, PBS KANSAS, 320 W 21ST N Wichita, KS 67203.
Click here to make your contribution and become a Chartered Contributor.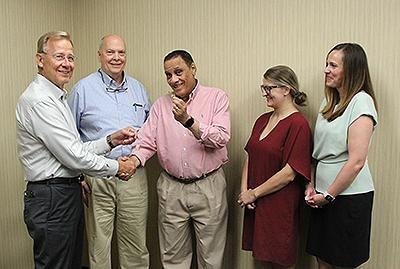 PBS Kansas New Building Announcement
PBS KANSAS will begin full operations at the new location by early 2022.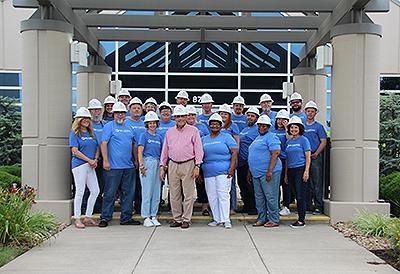 Ready To Start The Next Chapter
PBS KANSAS Presents: Kansas Baseball: Swinging for the Fences
PBS KANSAS Presents: Kansas Baseball: Swinging for the Fences Premieres at New Ball Park & In Homes on PBS KANSAS – Channel 8
WICHITA, Kan. — PBS KANSAS announces its newest, local documentary Kansas Baseball: Swinging for the Fences, the first comprehensive look at fascinating stories behind Kansas baseball and its historic and cultural significance to our communities. The documentary is produced by PBS KANSAS' Chris Frank and Mike Oliver.

You can watch the new baseball documentary from home Thursday, June 10 at 7 p.m. and Tuesday, June 15 at 7 p.m. on PBS KANSAS - Channel 8.

"PBS KANSAS is proud to present another locally-produced documentary. Part of our mission is to educate our community, and this look back at baseball in Kansas does just that," said Victor Hogstrom, President & CEO. "It brings awareness to the history of Kansas baseball and celebrates the impact of the game on Kansas culture. Kansas Baseball: Swinging for the Fences also highlights Kansas baseball 'firsts' and introduces the new professional team, the Wichita Wind Surge."
Sponsors
Many thanks to the following sponsors who have brought this dynamic documentary to life: Humanities Kansas; Fidelity Bank; Meineke Auto Care Centers of Wichita, Derby and Hutchinson; and the Greater Wichita Area Sports Commission.

Now, let's play ball!
How to Watch PBS KANSAS
You can watch "Seriously Good TV" on four channels, 8.1, 8.2, 8.3 and 8.4 via antenna. You can stream our main channel (8.1) from our website – kpts.org. You can watch our main channel (8.1) and our kids' channel (8.4) on YouTube TV.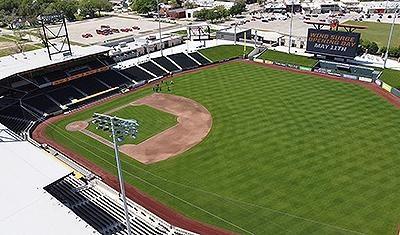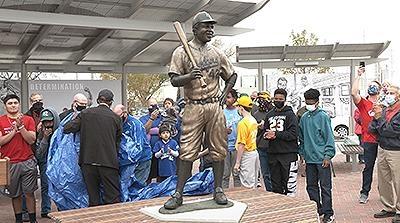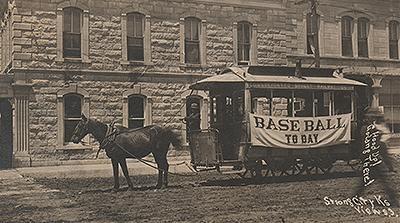 KPTS Hosts Judicial and Senate Race Forums
WICHITA, Kan. –KPTS – Channel 8 is hosting two, on-air forums to introduce viewers to the candidates in three contested races for district judges in Sedgwick County, and in the important race for U.S. Senate, with the winner replacing the seat being vacated by Senator Pat Roberts.
"At KPTS, we take our mission of educating and informing the community very seriously, because KPTS is seriously good TV," said KPTS President and CEO Victor Hogstrom. "We see it as KPTS' role to host candidate forums to help our viewers make informed choices at the polls this November, especially in these times of COVID-19 where people cannot gather at in-person events"
Watch KPTS – Channel 8 at 7 p.m. on Thursday, Oct. 15 for the Sedgwick County District Judges Forum 2020 moderated by Chris Frank. This show will feature the following candidates running for contested judges' seats in Sedgwick County Judicial District 18: Joni Cole (D) and Phillip Journey (R); Monique Centeno (D) and Quentin Pittman (R); and James Thompson (D) and Sean Hatfield (R). This program is supported by: Hite, Fanning & Honeyman, L.L.P.; The League of Women Voters; Martin Pringle Attorneys at Law; and the Wichita Women Attorneys Association.
Watch KPTS – Channel 8 at 7 p.m. on Thursday, Oct. 22 for the U.S. Senate Race: Interviews with the Candidates hosted by Susan Peters. It's the political race that could swing the balance of power in Washington. Susan Peters goes one-on-one with the two candidates vying for Kansas' open U.S. Senate seat. No questions are off the table as the veteran journalist asks the tough questions you want answered from Republican Roger Marshall and Democrat Barbara Bollier.
Sedgwick County Judges Forum 2020, Complete Episode
This show will feature candidates running for contested seats in Sedgwick County.
2020 US Senate Race
An on-air forum to introduce viewers to the candidates in the 2020 U.S. Senate race.
Kansas Public Telecommunication Services (PBS KANSAS - Channel 8) is our community-owned public media organization whose mission is to educate, engage, entertain and enrich Kansans. PBS KANSAS' vision is to be a primary influence for a thriving, engaged community.