PROPOSE A SHOW
Do you have an idea for a new program to air on KPTS? Many great ideas come from viewers like you. We appreciate your ideas and suggestions. Please email Phil Searle (Director of Productions) with your proposal and we'll consider your proposal and contact you if we choose to pursue the program idea. For questions about existing programs please contact Richard Hess (Director of Programming).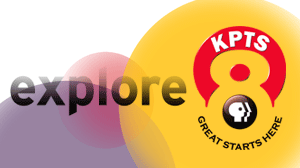 If you missed it on 8.1, catch it on 8.2!
Check the full schedule.
Every Friday night, you can learn about what is happening in Kansas and meet interesting people here on
KPTS-Channel 8
. At 7:30, watch
Kansas Week
hosted by Pilar Pedraza. She interviews legislators, reporters and other experts about Kansas issues. Then at 8pm, it's
Positively Kansas
hosted by Sierra Scott. This show focuses on positive, unique stories about people and businesses throughout Kansas. If you miss these shows, you can always watch them here at
kpts.org
.