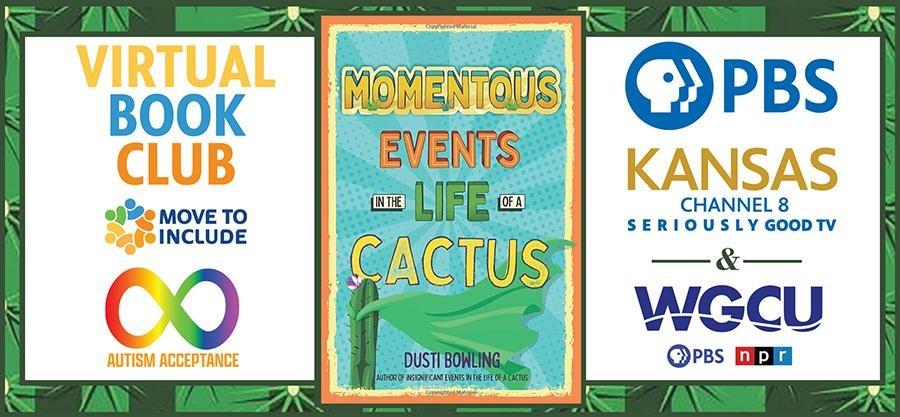 June 6 - July 25 @ 4:30 - 5:30 p.m.
Under the
Move to Include
framework, WGCU and PBS Kansas of Wichita, Kansas, will be collaborating and hosting a Virtual Book Club featuring the book, Momentous Events in the Life of A Cactus, by Dusti Bowling, with young adults ages 18-35 years old with and without Autism.
WGCU and PBS Kansas are committed to inclusion and providing unique social and educational opportunities to help break the isolation that individuals have experienced through the COVID-19 Pandemic. This is sure to be a fun and engaging opportunity for all, regardless if you have readMomentous Events in the Life of a Cactus. It's always more fun when you can do this with others and make new friends in the process.
Questions? Contact Lynn Woolf, PBS Kansas Director of Education, lwoolf@kpts.org
, 316-838-3090 ext. 233.
Who is the Virtual Book Club for?
Young adults ages 18-35 years old with and without Autism.
When and How will we meet?
The start date of the Virtual Book Club will be Tuesday, June 6 from 4:30-5:30 p.m. Central Standard Time. We will meet every Tuesday for 8 weeks from 4:30-5:30 Central Standard Time on Zoom. The last day of the Virtual Book Club will be July 26th.
Each participant will be provided with a copy of the book that will be sent to the address provided upon signup. Participants will need to use an electronic device with a camera and microphone, where they can access the provided Zoom link each week (smartphone, tablet, or laptop computer). Participants will be expected to have a personal email account in order for the facilitators to share important information at least on a weekly basis. If a participant does not have a device to use, an iPad can be provided on loan to use throughout the Book Club either through WGCU or PBS Kansas.
Structure of Weekly Meetings?
Each participant will be required each week to read 4-6 chapters (they are short) of the book and answer several questions, to help facilitate discussion within the group. No grades will be given as we will be fostering social communication and creativity while exploring the different themes presented in the novel and how they relate to real life situations we all encounter. Each week there will also be Ice Breaker activities from Would you Rather questions, to Scattergories, etc.