Local Cooking Show on PBS KANSAS
Third Tuesday of each month @ 2:30 p.m. (8.1 Cox 8)
Repeats:
Following Wednesday @ 4 p.m. (8.2 Cox 671)
Following Wednesday @ 9 p.m. (8.3 Cox 670)
Following Sunday @ 1:30 p.m. (8.1 Cox 8)
Following Sunday @ 6 p.m. (8.2 Cox 671)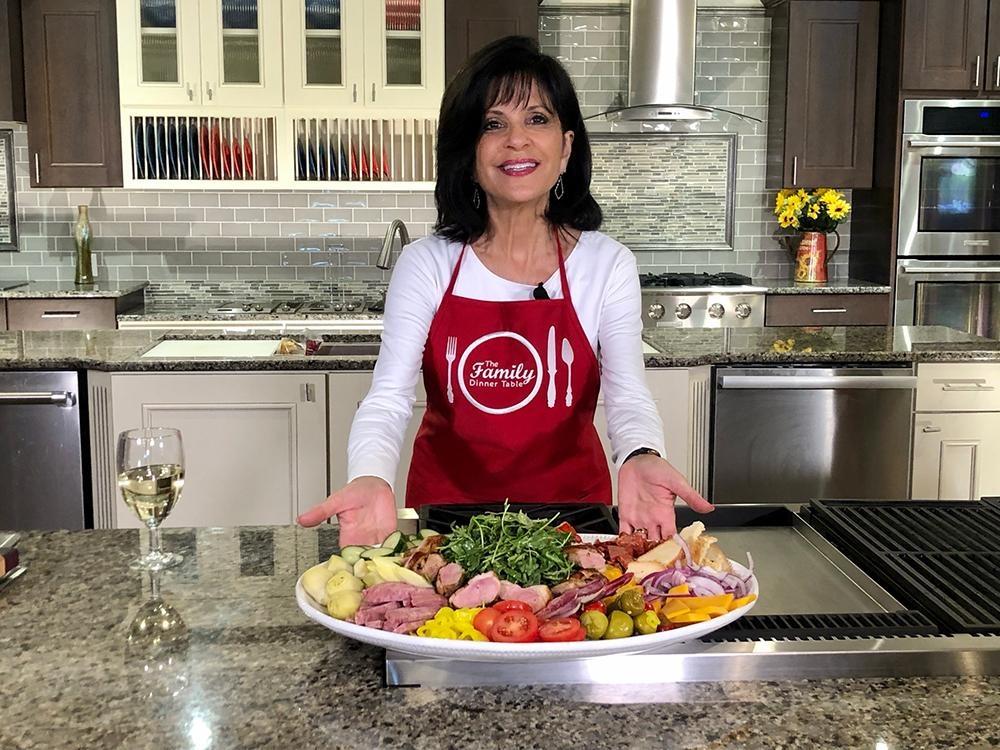 A local, half-hour cooking show hosted by the incomparable Susan Peters.
Each month, Peters will join a well-known, local chef or an extraordinary family cook, as they prepare their signature dish. The chef will use a family recipe handed down through generations. What makes this cooking show unique is that throughout the show, Peters, a great family cook herself, will talk about the dish and what makes it so special. She will also share old photos and stories about the featured chef and his or her traditional family dinner table.
"PBS KANSAS presents many cooking shows, both on our main channel 8.1 and on our Create channel 8.3, but we are especially pleased to bring The Family Dinner Table to our viewers because it features a local talent in Susan Peters," said Victor Hogstrom, President & CEO. "This show also offers a local perspective and introduces area chefs, restaurants and locally-sourced ingredients to our viewers across central Kansas."
Peters is well known as an Emmy-award-winning journalist and anchor; for her "forever family" adoption efforts as principal of Susan's Kids; and as co-host of Hatteberg's People which airs each Thursday night at 7 p.m. on PBS KANSAS. A lesser-known talent of Peters is her long-time passion for cooking delicious family meals.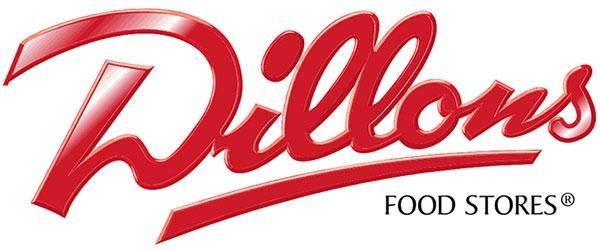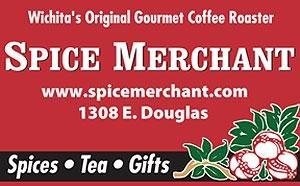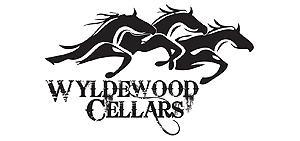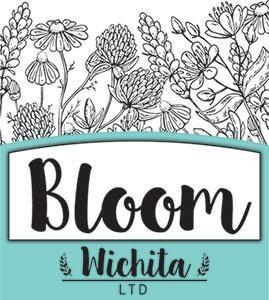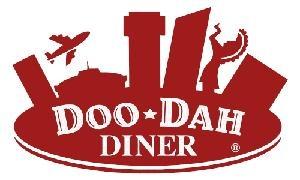 September 2023 Featured Recipe: Mexican Charro Beans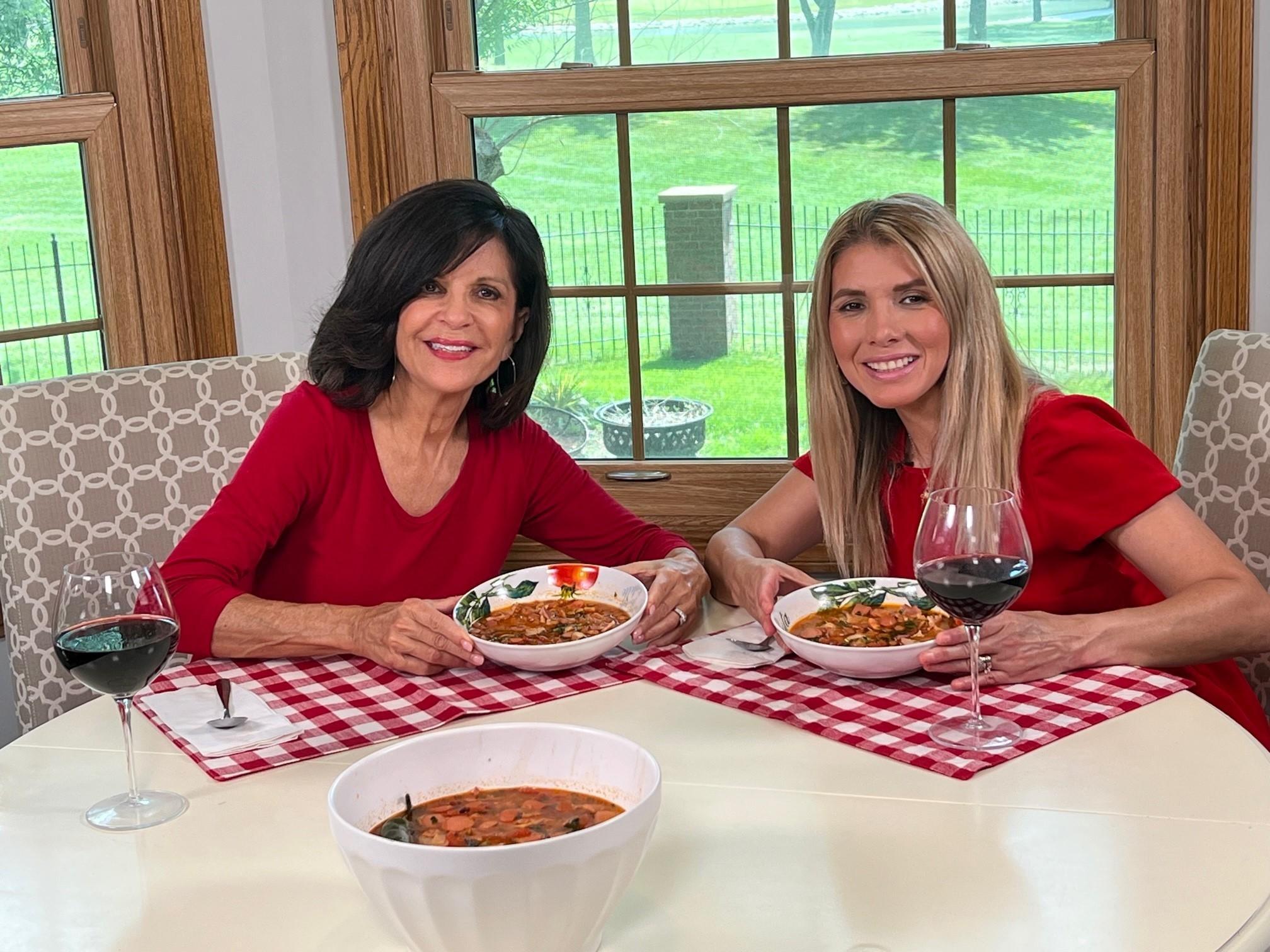 Mexican Charro Beans:
Ingredients:
6 cans of pinto beans (16 oz. each)
2 boxes of chicken broth (32 oz. each)
2 packs of hot dogs Classic Frank Bar S Brand (8 franks per pkg.)
1 pack of thick-cut bacon
1 pack of chorizo
4 tomatoes
1 white onion
2 bunches of cilantro
4 jal

apeños

(for flavor) or serrano peppers (hotter)
A few tablespoons of Knorr Bullion Chicken Flavor (powder or cubes)
Instructions:
Cut the bacon into large squares and fry it in a frying pan, cut the onion in small squares and fry it with the bacon until the bacon is cooked but not crispy and onion are translucent.
In a large pot, fry the chorizo without drying it. Cut the tomatoes in small squares and add them to the pot when the chorizo has released the fat, cook on medium-low heat for about 5-7 minutes and add the bacon and onion, fry for 1-2 minutes and add the chicken broth. If the consistency is too thick, you can add water so that the ingredients are not too thick.
Pour the cans of beans into the pot with the bean water from the can and let the ingredients boil. Finally, add the hot dogs classic franks, cilantro and the jalape

ñ

os, add the chicken bouillon to taste; and let it boil for a last time until the cilantro is cooked to a dark green soft leaf.
ENJOY!
July 2023 Featured Recipe: Pheasant
The Family Dinner Table with Susan Peters: Father Tom Welk
Pheasant
Ingredients:
Pheasant
Pepper
salt
flour
butter
chicken or turkey broth
Instructions:
Remove legs from pheasant; put aside for soup (see separate recipe)
Remove (filet) sides from pheasant breast
Season breast meat with pepper (salt will be in the broth)
Coat with flour
Fry in butter till golden brown
Place in crock pot and cover either with chicken or turkey broth
Cook on low setting for at least 8 hours
Remove from crock pot; place in oven to keep warm
Use desired amount of juice to make gravy; sprinkle with flour while stirring; add amount of flour to consistency desired
Serve and enjoy!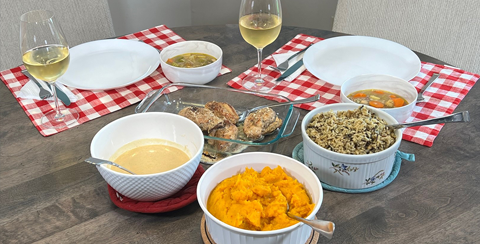 Pheasant soup
Ingredients:
½ stick butter
2 cups carrots (diced)
1 can corn (use water)
1 6.5 oz can mushrooms (use water)
2 cups celery chopped
½ large onion chopped
4 small to medium sized potatoes (cubed)
1 teaspoon rosemary
1 clove minced garlic
½ cup wild rice
½ cup barley
Salt and pepper to taste
4-6 pheasant legs
water
4-6 bay leaves
20 pepper corns
Chicken broth
Instructions:
Boil 4 to 6 pheasant legs in water with about 4-6 bay leaves and 20 pepper corns till meat is tender and can easily be stripped from the bone. Save water and add to ingredients listed below.
½ stick butter
2 cups carrots (diced)
1 can corn (use water)
1 6.5 oz can mushrooms (use water)
2 cups celery chopped
½ large onion chopped
4 small to medium sized potatoes (cubed)
1 teaspoon rosemary
1 clove minced garlic
½ cup wild rice
½ cup barley
Salt and pepper to taste
Put all ingredients into kettle and cover with water. If not enough water from cooking pheasant legs, add chicken broth to cover ingredients.
June 2023 Featured Recipe: Sweet Potato Crusted Salmon
Chef Ben George from the DoubleTree Inn
Instructions:
First Preheat oven to 350 degrees.
Next take the beaten egg mixture and add the Worcestershire sauce and the tabasco and mix well.
Next set up a breading station with the flour in a bowl, egg mixture in a bowl and the shredded sweet potato in a bowl.
Take the salmon and place in the flour first and coat all sides of the fish, then place the salmon in the egg wash mixture and make sure it is coated with egg. Then place on the sweet potato and press on it to get the sweet potato to stick. Place the coated salmon in the fridge for 20-30 minutes.
Over medium high heat with a medium sauté pan, pour the oil in the pan. Once the pan has heated up, place the salmon with skin side up in the sauté pan and cook on both sides for 2-4 minutes each side. Until golden brown.
Place salmon in a sprayed baking dish and bake for about 10 minutes or once the fish is cooked through out.
In a small sauce pan, over medium high heat, once it is hot, place garlic and white wine in the pan and reduce by half. Next add the heavy cream. Once heavy cream comes to a boil add the shredded gouda cheese to melt in the cream mixture. Once the cheese is melted and the sauce is thick take off the heat.
Place salmon on desired plate and pour 6 oz of the cream sauce over the top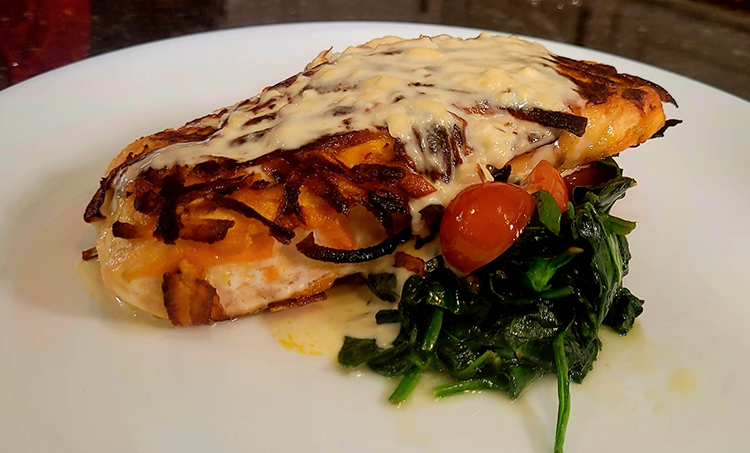 Ingredients:
Sweet Potato Crusted Salmon
1 cup flour
½ sweet potato peeled and shredded
4 eggs lightly beaten
1 tsp Worcestershire sauce
3 splashes tabasco hot sauce
1 tbsp. kosher salt
2 6-oz salmon fillets
Salt
Pepper
Smoked Gouda Cream Sauce
½ tbsp. of minced garlic
½ cup Chablis white wine
16 oz heavy cream
1 cup grated smoked Gouda cheese
May 2023 Featured Recipe: Doo-Dah Diner's Homemade Meatloaf
Chef Patrick Shibley from The Doo-Dah Diner
Instructions:
Preheat oven to 350 degrees.
In a large bowl, combine meat, eggs, Worcestershire, onions, peppers & cheese all together. It's a take off your rings and mix with your hands.
Once mixed, I pick the whole mess up and start making a loaf, packing it slightly and tucking cheese into the loaf.
Put in the middle of a cake pan. I cut the bacon strips in half and then lay in strips horizontally (allows for cutting slices of meatloaf much easier). Then top with a generous portion of Heinz Chili Sauce and put in the oven.
The house will smell amazing!! It's not the kind of meatloaf my mom would serve with mashed potatoes because it really doesn't make a gravy. I like the "goop" in the pan to add extra zip to my serving. At the diner you can always ask for extra goop. My mom always served it with green beans.
Bake about 45 min, and you want the bacon on top to be cooked and some crispy.
You can vary the pounds of meat you use … I also season everything with plenty of salt & pepper, and a little of this and a little of that.
Enjoy! And whatever you do, don't use GREEN bell peppers, it completely changes the flavor profile.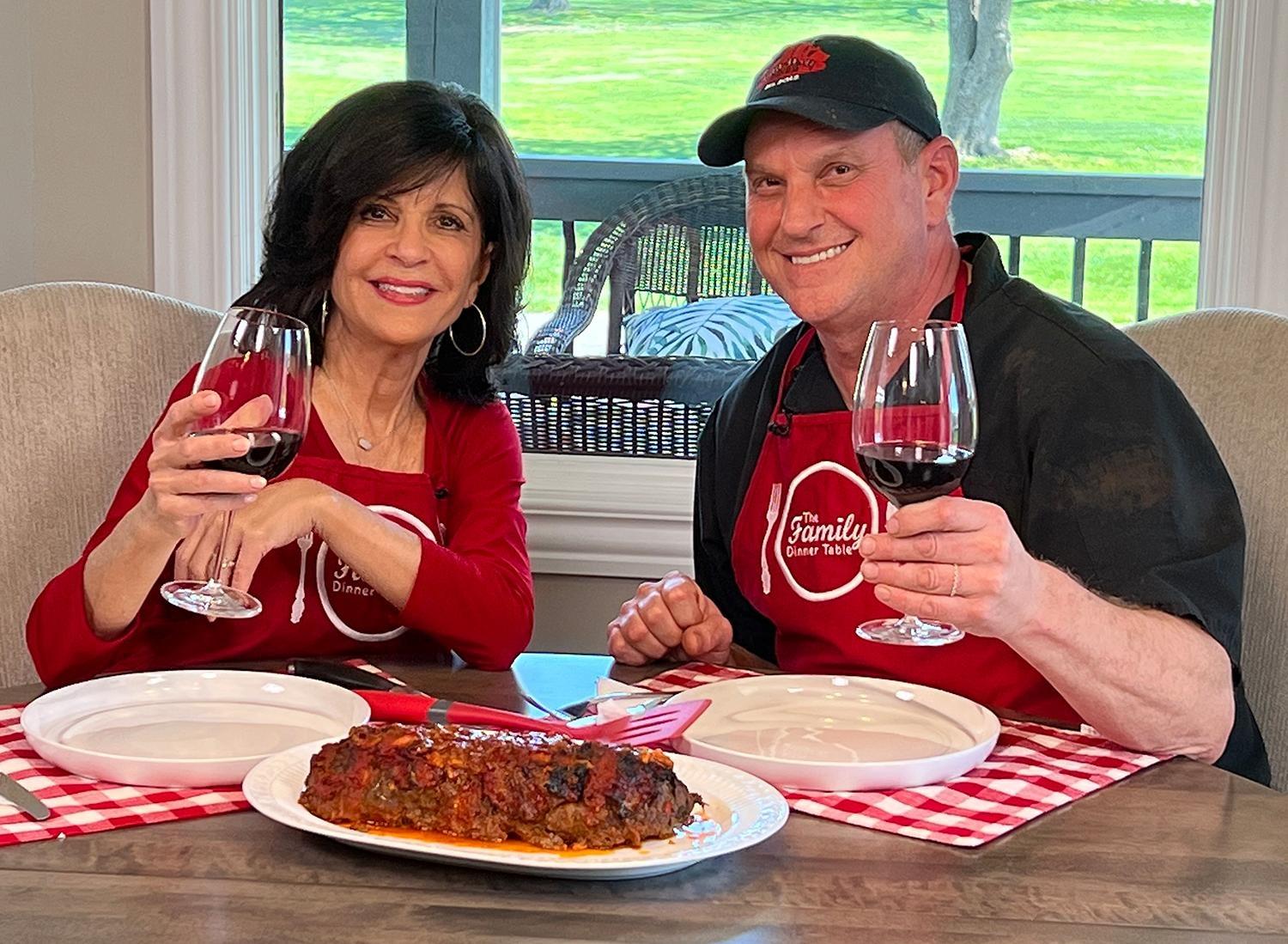 Ingredients:
2 lbs ground beef
¾ of a medium onion chopped (white or red)
¾ of a large red bell pepper chopped
1 cup of cubed cheddar cheese (1/2" cubes)
2 eggs
5 or 6 shakes of Worcestershire sauce
1 bottle of Heinz Chili Sauce (or ketchup)
2 strips (thinner) bacon
April 2023 Featured Recipes: Basic Chickpea Dip and Garlic Lovers' Chicken
Award-Winning Author Andrea Cassell
Basic Chickpea Dip (Hummus)
Yields 3 cups
Ingredients:
2 (15 oz) cans chickpeas, drained, reserving liquid
3-4 tablespoons tahini (more or less, to taste)
5-6 cloves garlic, finely minced
4-5 tablespoons lemon juice
1/3 cup extra virgin olive oil
Salt and pepper, to taste
Instructions:
Combine all ingredients except reserved liquid in a blender or food processor.
Slowly add reserved liquid and blend until smooth consistency, scraping sides often.
Place in a medium bowl and garnish with parsley, whole chickpeas, or paprika.
Cover with a thin layer of olive oil.
Serve with fresh raw vegetables, pita bread, pita chips, tortilla chips or any type of bread cut in cubes.
Garlic Lovers' Chicken with White Wine
4 servings
Ingredients:
4 boneless, skinless chicken breasts
1/2 cup dry white wine
1/4 cup lemon juice
1/4 cup extra virgin olive oil
20 cloves garlic, whole
1 teaspoon dried thyme
1 teaspoon dried rosemary
1 teaspoon sage
1/2 teaspoon salt
1/4 cup fresh, flat-leaf parsley, chopped
Instructions:
Place chicken breasts in an ungreased baking dish.
In a bowl, combine the remaining ingredients except for garlic.
Pour over the chicken.
Add garlic cloves on top of the chicken.
Bake uncovered at 350 degrees for 1 hour.
Before serving, sprinkle with fresh parsley.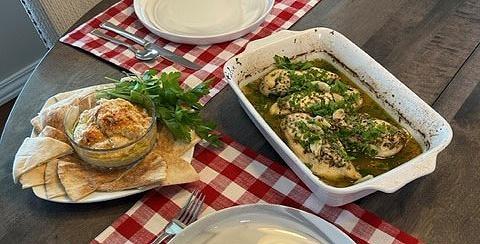 February 2023 Featured Recipe: Prosciutto Italian Ham Pizza
Chef Peter Nguyen from Il Vincino Wood Oven Pizza
The Family Dinner Table with Susan Peters: Chef Peter Nguyen
Ingredients
Dough ball 8oz
San Marzano 3oz
Fresh mozz 2oz
Cherry tomatoes 5 cut in half for 10 halves
Arugula .5 oz
Prosciutto 2 slices
Extra v. Olive oil .25 oz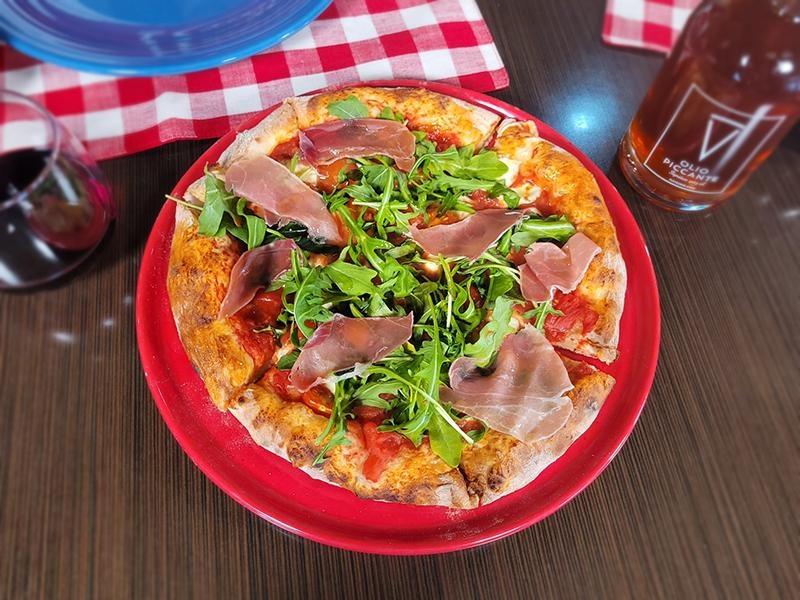 November 2022 Featured Recipe: Grandma Jane Anderson's Homemade Chicken Pot Pie
PBS Kansas Director of Development Terri Brooks
The Family Dinner Table with Susan Peters: Terri Brooks
Ingredients
I fully baked chicken
2 cans cream of mushroom soup
1 can cream of chicken soup
16 oz package of frozen vegetables
1 cup diced onions
1 stick of butter
6 hard boiled eggs
1 package pie crust dough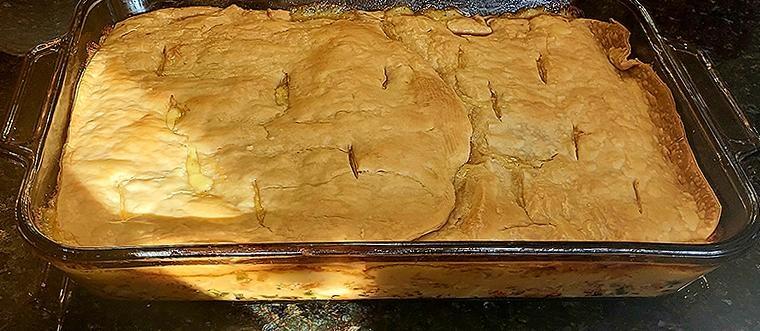 Instructions:
Debone chicken and chop in bite size portions and add to a large mixing bowl.
Add the soup, vegetables, diced onions, and diced hard boiled eggs to the mixture in the large mixing bowl and stir.
Salt and Pepper to taste.
Spoon mixture into 9 x 13 baking dish.
Place pads of butter across top of pot pie mixture in the baking dish before adding pie crust.
Top with pie crust and vent with fork before baking (uses two pie crusts)
Bake at 350 degrees for 45 minutes.
October 2022 Featured Recipe: TSK's Famous Flint Hills Chicken
Chef Kelly Leffel from Tanya's Soup Kitchen
The Family Dinner Table with Susan Peters: Chef Kelly Leffel
TSK's Famous Flint Hills Chicken
2-3 slabs of chopped Bacon (or sub 3 tbl butter)
2-3 garlic cloves minced
1 small onion diced
1/2 lb of white mushrooms, chopped (reserve 1/2 cup for blitzing)
1/2 lb of portabella mushrooms, chopped
1/2 c. white wine or sherry
1 tsp dried sage, thyme, and ground mustard (may substitute dijon)
pinch of nutmeg
4 cups. Chicken Stock
2 cups Whole Milk
2 cups Heavy Cream (may sub half and half or just use more whole milk)
4 oz. of room temperature cream cheese
1 tablespoon fresh chopped rosemary and fresh sage
Salt and pepper to taste
4-6 chicken thighs bone in skin on (or whole roasted chicken, pulled for soup)
jasmine rice or long grain white rice to serve as entree
roux for thickening: equal parts of fat 1/4 cup flour to butter or bacon grease, or 1/2 c. flour to fat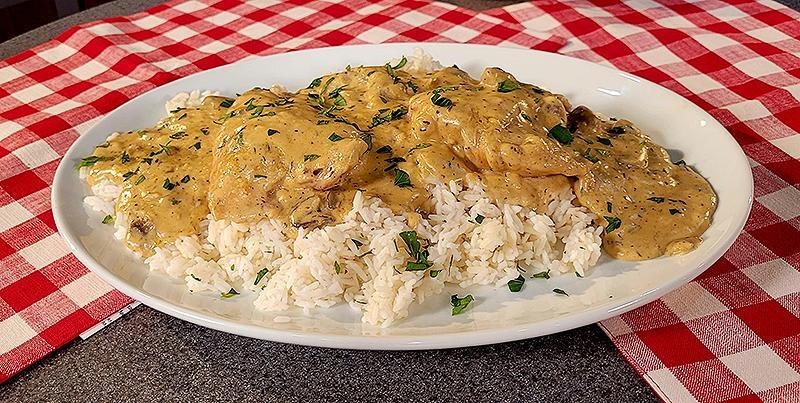 Gravy or Soup
In a stock pot cook off chopped bacon until golden and crispy. Remove from pot and set aside for garnish, leaving bacon grease to saute diced onion, chopped mushrooms, and minced garlic in until onions are translucent. Add all dried herbs and stir in white wine, cook for 5 minutes for a white wine reduction. In another bowl add reserved mushrooms and puree with an immersion blender, until it becomes a mushroom paste. Add to your stock pot. In the same bowl or blender (cause who wants to dirt more dishes) puree milk and cream cheese to make sure it is well blended with your soup/gravy. Add remaining stock and cream, bring to a boil. To make your roux mixture use melted butter or bacon grease and mix with flour until you create a paste. Depending on if you are making soup add 1/4 cup or 1/2 for gravy. Add fresh herbs and salt and pepper to taste (Start with a tsp of each, until it reaches your taste. Remember less is more.) If making as a soup add roasted chicken before rouxing, to make sure you get the right consistency for you and yours.
Entree
Preheat oven to 375. Add your chicken thighs to a deep dish pan, sprinkle with salt, pepper and granulated garlic. Cook for 10-15 minutes until golden and the skin is a bit crispy. Pull and top with gravy until completely coated. You will have leftover gravy. (You can always freeze until next time or use it in another dish.) Cook for another 30 minutes, until your chickens reach around 170-175 degrees. Your gravy should become more soup like with the delicious fats and juices the chicken will release. Serve on top a bed of fragrant rice of your choice. Top with reserved bacon and chopped parsley!
September 2022 Featured Recipe: Nigerian Jolof Rice, Afro Grilled Chicken & Fried Plantains
Chef Beatrice Forchu from BChic Bar and Grill
The Family Dinner Table with Susan Peters: Chef Beatrice Forchu
Fried Plantains
2 ripe plantains
Frying oil
Peel two ripe Plantains and slice plantains(either 2inches slanting or round)
Pour two cups of frying oil of your choice in a frying pan
Heat oil up to 350 degrees, fry plantains until golden brown
AfroStyle Grilled Chicken
Chicken Breast
garlic, ginger, chicken bouillon powder, white pepper
bell peppers
onions
slice up 2 defrosted Chicken breast
Marinate with oil of choice and some chicken bouillon powder,garlic powder, ginger power and white pepper
Slice bell pepper(green, red and yellow and some onions
On a grill or pan, place chicken, brown for about three minutes,
Add peppers and onions, sauteed together until chicken is cooked(10 to 15 minutes)
turn stove off and take off the heat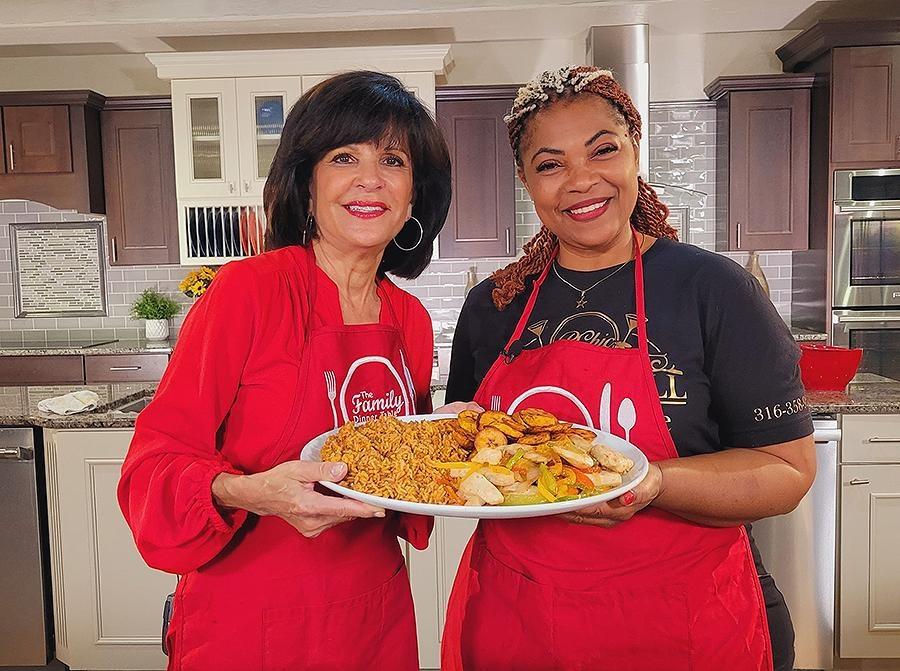 Nigerian style jollof rice
Parboiled rice
onions,
tomato paste
bayleaves, thyme
salt
bouillon powder
In a bowl pour 3cups of parboiled rice
Wash off starch with warm water until water from rice runs clear
Pour half a cup of cooking oil in a sauce pan,
sliced onions to cook for about a minute
Add 1/4 cup of tomato paste and stir up, followed by the washed rice
Add 1 table spoon of thyme, 3 bayleaves, 1 tablespoon of bouillon powder and a teaspoon of salt
Pour 6 cups of water, stir and cover; cook on medium heat until water in rice is completely dried up
Stir and enjoy!
August 2022 Featured Recipes: Bacon Wrapped Chimichurri Pork Tenderloin, Grilled Pineapple, Peppers & Onions and Grilled Corn Salad
Chef Tom Jackson from All Things Barbecue
The Family Dinner Table with Susan Peters: Chef Tom Jackson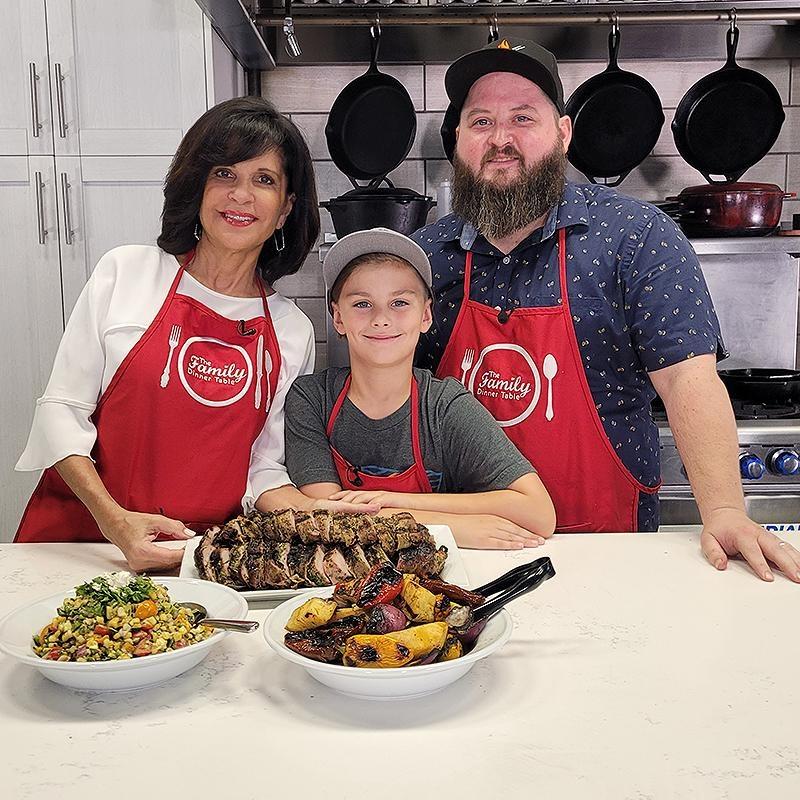 Grilled Pineapple, Peppers & Onions
1 pineapple, trimmed, diced into 1" x 2" pieces
1 large red onion, root and tip end trimmed, skin removed, sliced into quarters
15-18 small sweet peppers
Lemon juice, to taste
Jacobsen Salt Co. Black Garlic Infused Sea Salt
Preheat your grill for high heat (500ºF+) direct grilling.
Skewer each item on its own set of skewers (do not mix and match). This will allow item to finish at the same time, rather than burning the onions before getting the pineapple or peppers softened.
Place the skewers over direct heat (right over flame/charcoal/gas burner/etc.). Cook until
slightly charred, about 5 minutes. Flip and continue cooking.
The pineapple is done when slightly charred and slightly softened, but not yet mush.
The onions are done when the edges are slightly charred and onion is softened and no longer raw in the center.
The peppers are done when slightly charred and softened.
Remove all skewers from the grill. Remove all items from their skewers and combine in a large bowl.
Season with fresh squeezed lemon juice and Jacobsen Salt Co. Black Garlic Infused Sea Salt, to taste.
Bacon Wrapped Chimichurri Pork Tenderloin
3 Pork Tenderloins:
Cattleman's Grill Trail Dust All Purpose Seasoing
2 lb classic cut bacon
For the Chimichurri:
3/4 cup shallot, chopped
1 1/2 cup fresh cilantro, chopped
1 1/2 cup fresh parsley, chopped
3 tbsp fresh oregano
6 cloves garlic, crushed, peeled
1 tbsp Cattleman's Grill 8 Second Ride Carne Asada Seasoning
3 tbsp capers
6 tbsp red wine vinegar
3/4 cup Saica Sicilian Extra Virgin Olive Oil
Jacobsen Salt Co. Kosher Sea Salt, to taste
Jacobsen Salt Co. Tellicherry Black Peppercorns, fresh ground, to taste
Chimichurri Aioli:
1/2 cup mayonnaise
1/2 cup chimichurri
To make the chimichurri, combine all ingredients in a food processor and process until mostly smooth. Set aside 1/2 cup chimichurri for the chimichurri aioli.
Trim the silver skin from the surface of the pork tenderloins. Transfer them to a large zip top bag. Add the remaining chimichurri. If you have the time, let the pork marinate for a couple of hours. If not, simply massage the chimichurri into the meat.
Remove the chimichurri soaked pork tenderloins from the bag. Season the surface with Cattleman's Grill Trail Dust All Purpose Seasoning.
Starting at one end of the pork tenderloin, wrap the bacon around the tenderloin in an overlapping spiral that covers the surface off the meat. Use several sliced of bacon until the entire tenderloin is covered.
Grill the bacon wrapped chimichurri pork tenderloin over direct heat at 500ºF until bacon is browned. Flip and brown the opposite side. Move to indirect heat and cook until the internal temperature reaches 140ºF.
Slice the tenderloin into medallions and serve with the chimichurri aioli for dipping.
Grilled Corn Salad
12 servings
Ingredients:
3 ears corn
1 poblano pepper, diced
1 cup cherry tomatoes, quartered
1 avocado, diced
1/2 cup red onion, minced
1/2 cup cilantro
1 clove garlic, finely grated
Oakridge BBQ Smokey Chile Lime Seasoning, to taste
For the dressing:
6 tbsp Saica Sicilian Extra Virgin Olive Oil
3 tbsp fresh squeezed lime juice
2 tsp Reida Wildflower Honey
Flavocano Smokey Red Pepper Sauce, to taste
Noble Saltworks Smoked Salt, to taste
Instructions:
Preheat your Yoder Smokers YS640s Pellet Grill to 450ºF, set up for direct grilling.
Place the ears of corn on the far right side of the grill (still in their husks). Let warm for about 20 minutes.
Meanwhile, combine the remaining ingredients in a medium sized mixing bowl.
To make the dressing, combine all ingredients and whisk well.
When the corn is warmed though, remove the husks and grill the corn over direct heat until slightly charred. Remove from the grill. Slice the kernels off of the cob and combine with the other ingredients.
Add the dressing to the salad and toss to coat. Taste and adjust seasonings, as needed.
July 2022 Featured Recipes: Hawaiian Ahi Poke (Ah-he-Poke-eee) and Spam Musubi (Moo-sue-bee)
Chef Aki from Noble House Hawaiian Plate Lunch Food Truck
The Family Dinner table with Susan Peters: Chef Akamu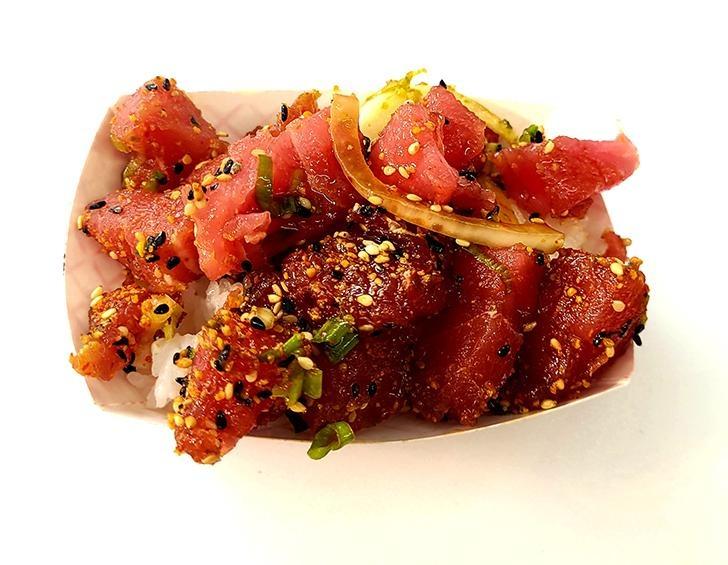 Ahi Poke
1 1/2 pounds ahi tuna, sushi or sashimi grade (3 steaks, 6 to 8 ounces each)
¼ cup minced sweet yellow onion
2 green onions, thinly sliced
3 tablespoons soy sauce
1 tablespoon sesame oil (not toasted)
1 small garlic clove, grated
Instructions:
Step One: Slice the tuna into 1-inch cubes. Mince the onion. Thinly slice the green onions. Mix them in a bowl with the soy sauce, sesame oil, garlic, ginger, and kosher salt.
Step Two: Serve immediately, but for most authentic flavor marinate in refrigerator for 15 minutes to 1 hour. Add a sprinkle of salt (if needed) and sesame seeds before serving.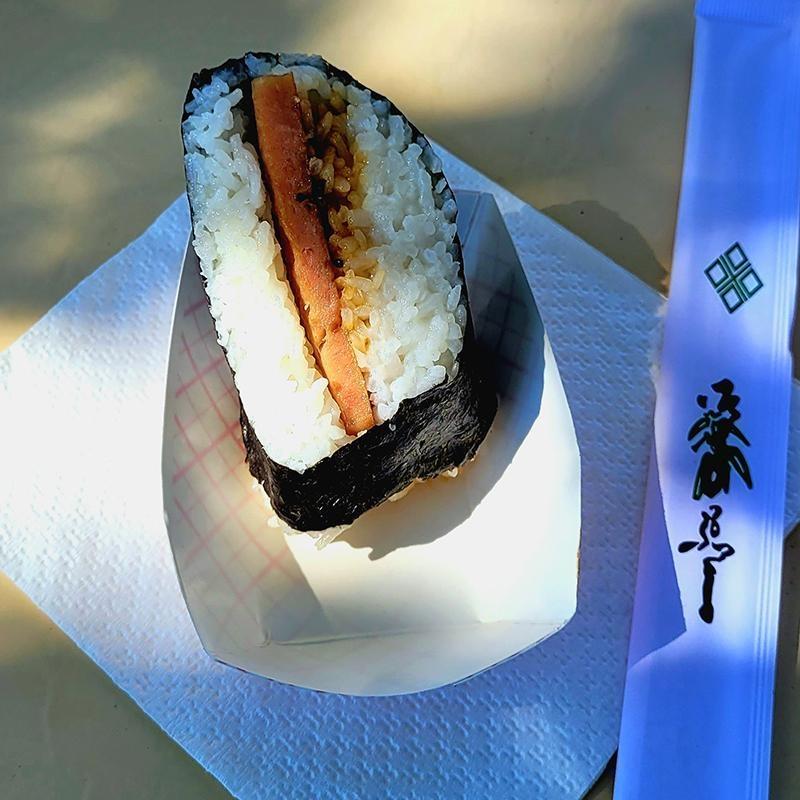 Spam Musubi
1 slice fried Spam (diced)
¼ cup Teriyaki Sauce
Sesame Seeds
6 cups cooked rice
Seaweed
Instructions:
Step One: Slice the SPAM into about 8-10 slices (depending on how thick you like it) and put in a Ziplock bag with Teriyaki Sauce. Marinate for about 15 minutes.
Step Two: Drain off marinade and fry SPAM on each side over medium heat until slightly crispy or until desired doneness. Some people like to glaze the SPAM with the marinade/sauce AFTER frying, either way tastes great!
Step Three: Place a strip of Nori Seaweed on a cutting board or clean surface (shiny side down). Place your Musubi mold across the middle of the nori. Add rice to the mold, pressing down firmly and evenly, so there is about 1-1 ½ inches of rice. (dip the mold and your fingers in water as you go to prevent sticking)
Step Four: Next, remove the mold from the rice. Now you will have a nice little block of rice right on the nori. Add some of the cooked spam to the top. Wrap up one side of the nori and stick it to the top of the SPAM, then wrap up the other side. Just like you are wrapping a nice little package. Use a little water on your finger to seal if needed. Serve warm.
Step Five: Some like it dipped in soy sauce, some like it with ketchup, and some like it as is.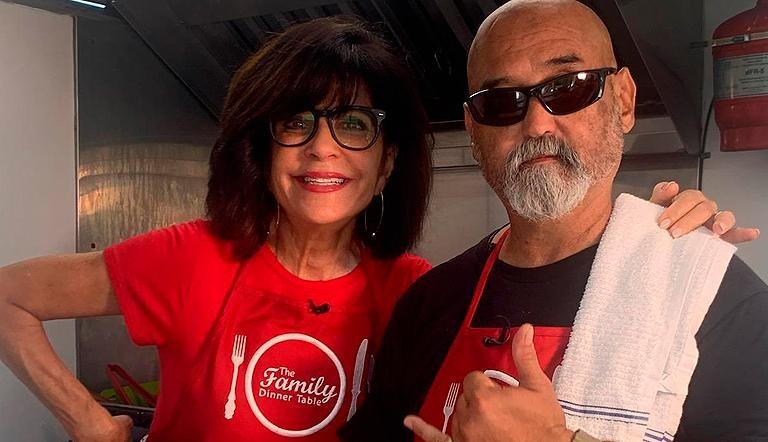 May 2022 Featured Recipes: Chicken Shawarma & Slatet Fattoush
The Family Dinner Table with Susan Peters: Chef Ilham Berbary Saad
Chicken Shawarma
3 lbs raw chicken tenders or whole breast
½ cup vegetable oil
½ cup distilled vinegar
½ tsp paprika
½ tsp cinnamon
¼ tsp allspice
¼ tsp black pepper
1 Tbsp granulated garlic or fresh minced garlic
1 tsp salt
Taratoor
1 cup tahini
½ cup lemon juice
1 to 2 cups water
½ tsp salt
Directions:
In a large bowl, combine the chicken tenders with the spices and liquids. Mix all these ingredients together and marinate for at least 1 hour, or you may keep it in the refrigerator for up to a week to use at a later time.
To cook the Chicken Shawarma, heat the oven to 400 degrees F and bake the chicken for 25 minutes.
You can also grill the chicken tenders by putting 1 or 2 tenders on a skewer, setting the skewers on the grill, and flipping over to cook both sides.
Taratoor: (tahini sauce)
Mix all ingredients together until well combined and smooth. Keep in a jar in the refrigerator until you're ready to use it.
To serve:
To eat sandwich style, open on half loaf of pita bread. On one side, place some chopped parsley, diced tomatoes, diced onions, and about 4 chicken tenders. Pour the Taratoor over the sandwich fillings. Close the pita pocket and roll into a handy sandwich. Enjoy!
Slatet Fattoush
1 head romaine lettuce, chopped
1 head iceberg lettuce, chopped
1 cup sliced radish
1 cup chopped green onions
1 each diced: red, yellow, orange, green bell peppers
1 English cucumber, sliced
1 cup cubed fresh tomato
3 loaves of toasted pita bread
½ cup chopped parsley
Dressing
½ cup fresh lemon juice
¾ cup extra virgin olive oil
1 tsp crushed dried mint
1 tsp ground sumac
1 tsp salt
Instructions:
In a small bowl, combine all the dressing ingredients and mix well. You may add more salt or lemon to your liking.
To toast fresh pita bread, heat oven to 500 degrees F. Lay pita bread on a baking sheet and place in oven for 10 minutes or until toasted.
In a large mixing bowl, combine all the vegetables. Pour the mixed dressing over the vegetables and toss. Add the toasted pita bread and mix again. Enjoy!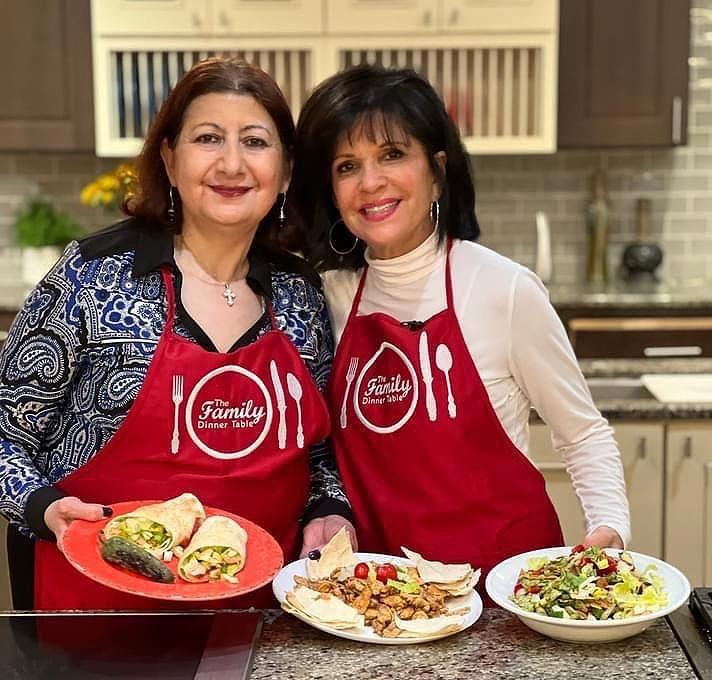 March 2022 Featured Recipe: Guasacaca Sauce (Avocado Garlic Sauce)
Chef Jason Febres from "Rent the Chef"
Parrillada is a Venezuelan meal which includes a variety of meats that are grilled or barbecued. The Venezuelan version includes flank or skirt steak, hot links, yucca, plantains and guasacaca (avocado garlic sauce) is usually served at special occasions. Here is the recipe for the guasacaca we prepared on this episode.
The Family Dinner Table with Susan Peters: Chef Jason Febres
Guasacaca Sauce (Avocado Garlic Sauce)
2 large ripe avocados seeded (I use Haas)
½ medium onion halved
1 small green or yellow bell pepper seeded and quartered
1-2 medium jalapeños stemmed and seeded
1 cup fresh cilantro tightly packed
½ cup fresh parsley tightly packed
2 tablespoons vinegar
3 tablespoon fresh lime juice (more to taste)
1 tablespoon olive oil
½ teaspoon kosher salt (more to taste)
¼ teaspoon freshly ground black pepper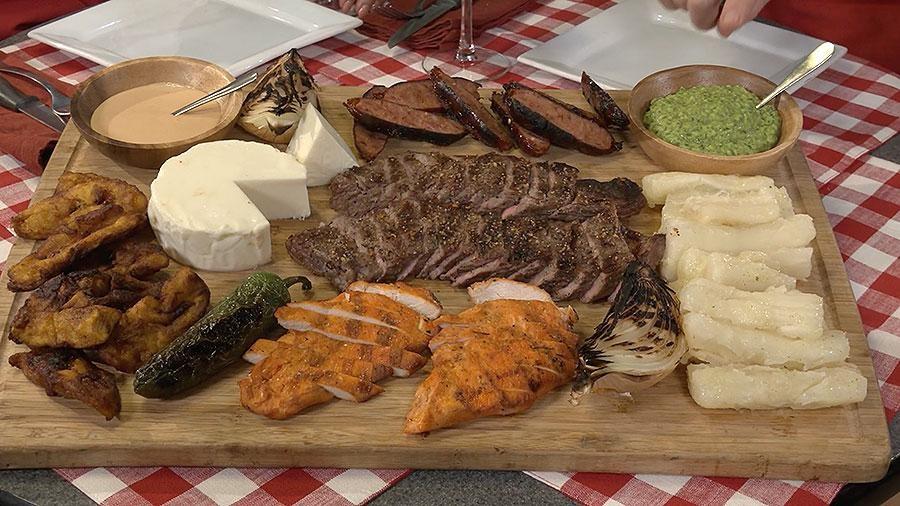 Instructions
Combine all ingredients, but olive olive oil, in the food processor. Process until smooth.
Add olive oil and pulse a couple of times until the oil is fairly incorporated.
Taste and add more salt, pepper, lime juice or vinegar, if desired.
February 2022 Featured Recipe: Ragu Specialty Sauce
Chef Luciano from Luciano's Restaurant
The Family Dinner Table with Susan Peters: Chef Luciano
Ragu Specialty Sauce
1 carrot
1 onion
1 to 2 stalk(s) of celery
3 cloves of garlic
1 lb. of ground beef
¼ c. olive oil.
1 c. red or white wine
1 c. tomato sauce
To prepare:
Chop carrot, onion, celery and garlic – simmer in the ¼ c. olive oil until soft.
Add ground beef (either raw & cook until brown – or cooked and cook until warm)
Add Red or White wine
Add tomato sauce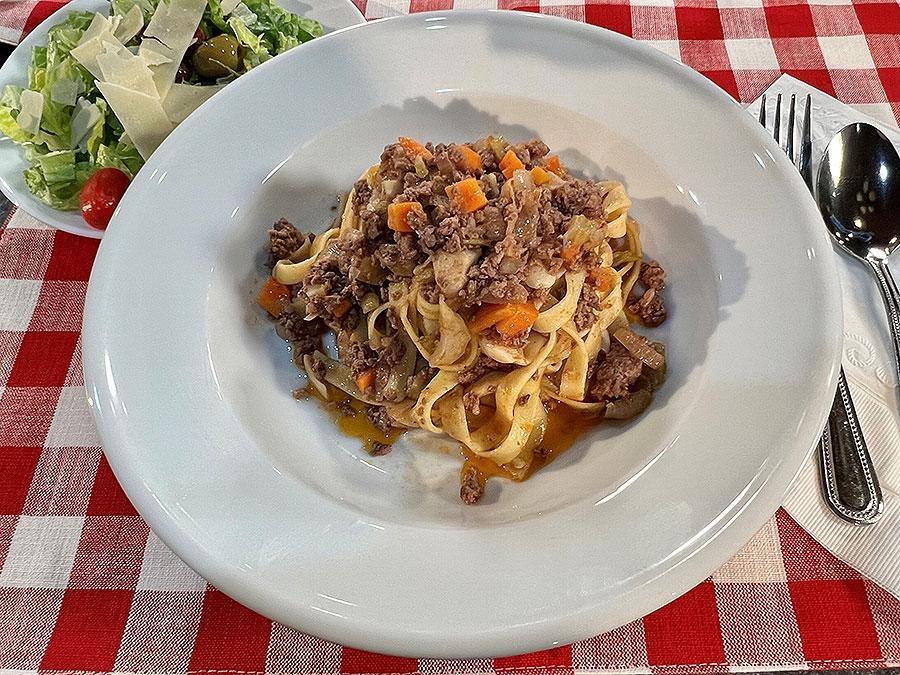 December 2021 Featured Recipes: Pumpkin Pie and Pizzelle Waffle Cookie
Judy Hatteberg and Nikki Sellmeyer
The Family Dinner Table with Susan Peters: Judy Hatteberg and Susan's daughter Nikki
Mother's Pumpkin Pie
(makes 2 pies)
1 ½ cup pumpkin
1 c sugar
1 c dark Karo
2 level T flour
1 cup milk
3 eggs
2 t cinnamon
½ t ginger
1 t salt
Mix well – adding milk last
Bake in 400 degree oven for about 45 to 50 minutes. Test with a dinner knife about 1 inch from the edge of the pan. If fully baked the knife should come out clean!
The Italian Pizzelle Waffle Cookie
(Susan Peters cooking with daughter Nikki)
Ingredients:
6 eggs, beaten
1 cup melted butter
1 1/4 cup sugar
2 oz. (or more) Anise extract (1.25 or 1.5 is better)
4 teaspoons baking powder
3 1/2 cup flour
Optional:
1 Tablespoon anise seeds, ground
½ oz. whiskey
Directions:
Mix all together into nice batter.
Chill batter if there is time.
Drop 1 Tablespoon in center of hot iron.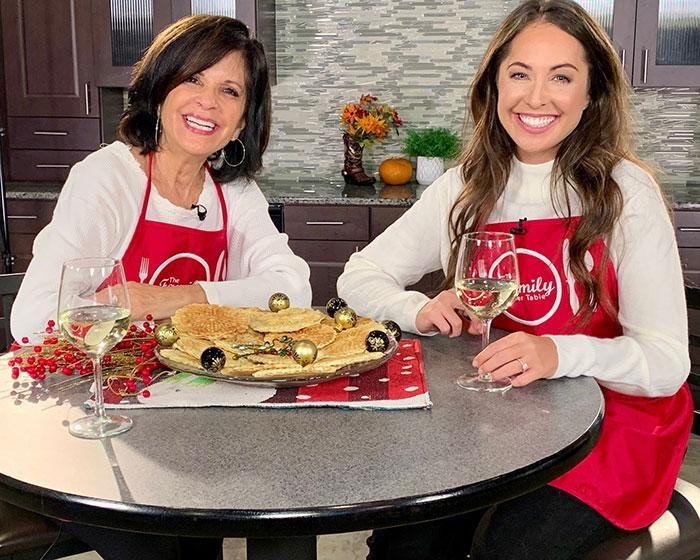 November 2021 Featured Recipe: Pumpkin Ravioli Recipe
Katharine Elder from Elderslie Farm
The Family Dinner Table with Susan Peters: Chef Katharine Elder
The Pasta
2 large eggs
2 c all purpose flour
2 tsp olive oil
1 tsp salt
Mix by Hand
Place flour on a clean work surface, making a volcano shape with a well in the center. Pour the eggs, salt, and olive oil in to the center of the well and mix with a fork, making a shaggy mixture as the dough starts to come together (2-3 minutes). Parts will be quite wet while others remain dry. Gather the dough in to a ball and knead for 3-5 minutes. Scrape any escaped bits of flour in to a pile and knead 3-5 minutes more or until dough is smooth and consistent. Allow dough to rest 15 min before using.
Mix with Food Processor
Place flour and salt in the Cuisinart and combine. Add eggs one at a time, pulsing to incorporate. Add olive oil and continue pulsing until dough forms small pea-sized bits. Gather in to a ball on a clean work surface and knead 2-3 minutes or until dough is smooth and comes together. If dough is too dry to knead properly, spray outside of the dough and your hands with water as you work.
For another option for fresh pasta, see www.eataly.com
The Filling
1 c pumpkin puree (one small pumpkin, roasted. *remove seeds before roasting)
1 c amaretti or gingersnap cookies, crushed to a very fine crumb (to yield 1/2 c)
½ c breadcrumbs
1 egg
1 c grated Elderslie Westfork cheese
1 tsp kosher salt
Pinch freshly grated nutmeg
Pinch freshly cracked white pepper (black is fine too!)
The Sauce
Melt 3 Tablespoons salted butter over low heat
The Sage
Heat a small saucepan of avocado oil, grapeseed, or other neutral oil over medium heat until a drop of water sizzles and evaporates in the water (320).
Drop sage leaves in the oil to fry. Remove when no longer sizzling and drain on a paper towel, dusting with salt.
*note, leaves should turn a deep green when removed from the oil. If brown, turn the heat down
***if you prefer to omit fried sage, toss the sage in with your melted butter!
Assemble
Roll out the pasta dough into thin sheets no thicker than a nickel with either a pasta machine or wide rolling pin. To assemble the ravioli, brush water over a sheet of pasta. Drop the filling mixture on the dough by teaspoonfuls about one inch apart. Cover the filling with the top sheet of pasta, pressing out the air from around each portion of filling. Press firmly around the filling to seal. Cut into individual ravioli with a knife or pizza cutter. Seal the edges and place on a floured cookie sheet.
Prepare
Drop ravioli in to a pot of salted, boiling water. In 90 seconds or when the ravioli rise to the top, remove with a slotted spoon or similar and drop in melted butter. Place in a bowl and top with fried sage, grated westfork, and any remaining butter. Serve and enjoy!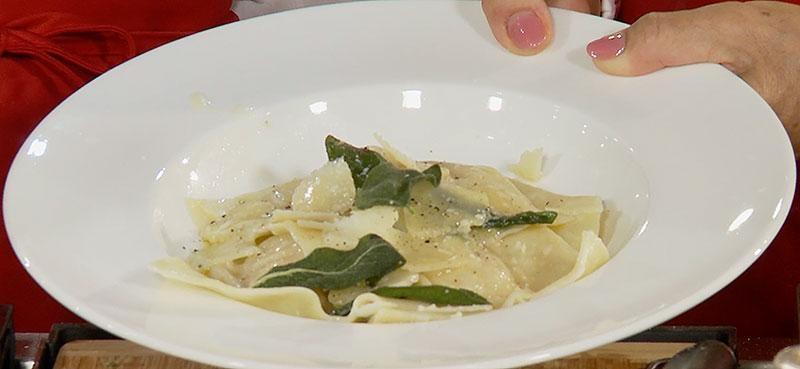 October 2021 Featured Recipe: M'Bakbaka & Citrus Saffron Vinegrette
The Family Dinner Table with Susan Peters: Chef Eric DugDug
M'Bakbaka Recipe
2Lbs Lamb (or meat of choice)
2 Tablespoons oil for searing meat
1 Yellow onion diced
6 cloves of garlic minced (or however much you desire)
Deglaze with 2 quarts water
2 Tablespoons Paprika
2 Tablespoons Turmeric
1 Can of 6oz Tomato Paste
Bring to a boil and simmer for 20 minutes
1 Can of garbanzo beans
4 whole Jalapeno
8oz pasta of choice
Als water as needed
squeeze of lemon
Boil for 8 minutes or until pasta is done
Chopped basil and lemon for garnish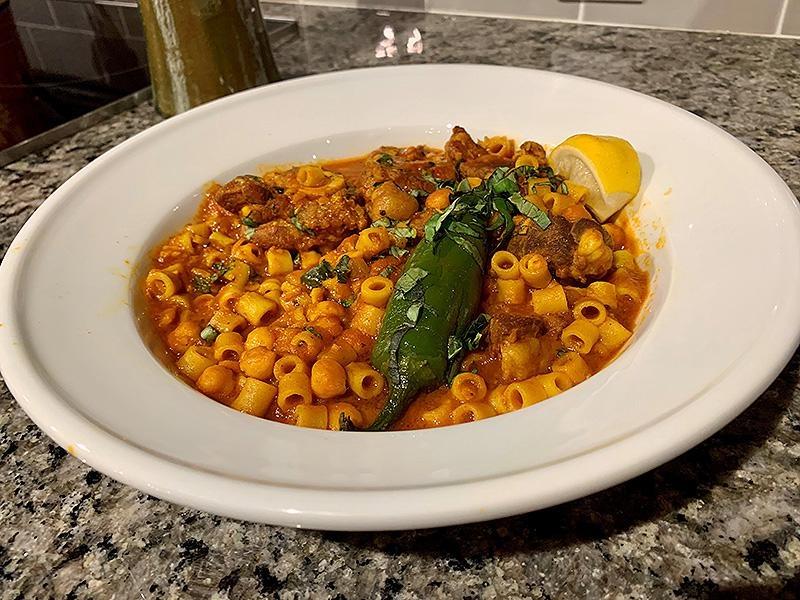 Citrus Saffron Vinegrette Recipe
1 1/2 Cup olive oil
1/2 cup red wine vinegar
1/4 cup Lemon Juice
Zest of 1 orange
2 cloves garlic
Teaspoon brown mustard
3/4 cup parsley
1/2 Teaspoon red chili flakes
1/3 Cup honey
Hefty pinch of saffron
Salt and pepper to taste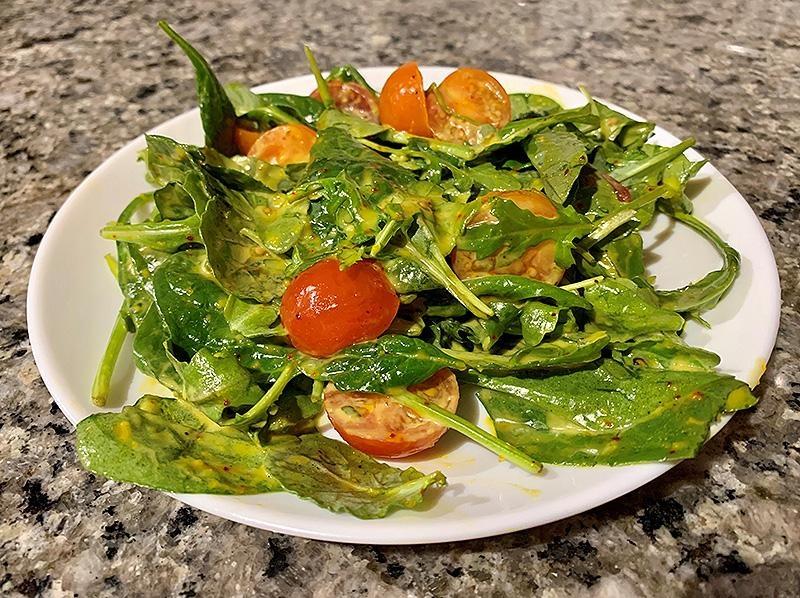 September 2021 Featured Recipe: Chicken Provençal
Chef Katharine Elder from Elderslie Farm
The Family Dinner Table with Susan Peters: Chef Katharine Elder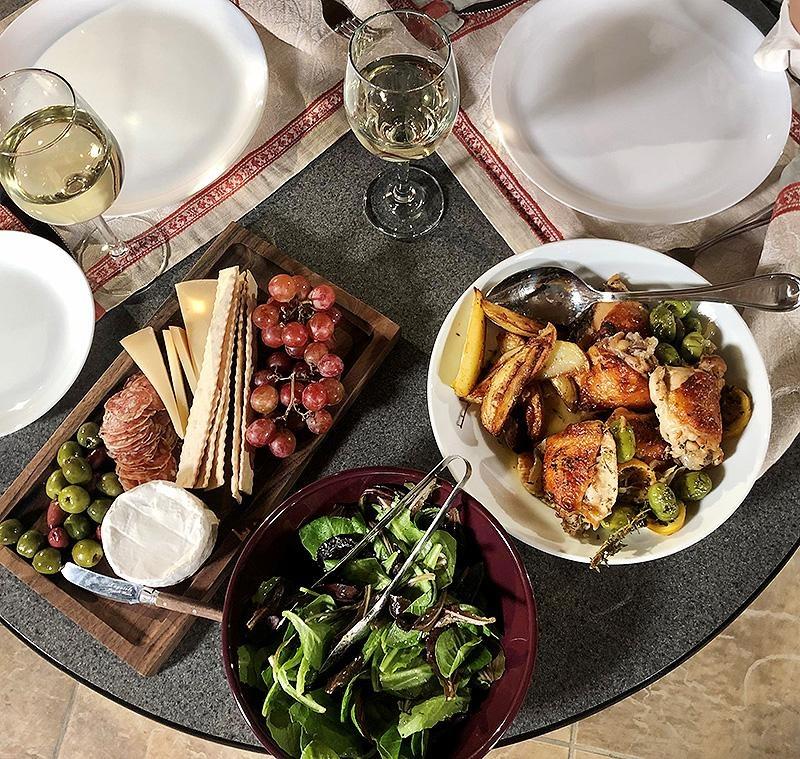 Chicken Provençal
Ingredients:
4 bone-in, skin-on chicken thighs
2 Tbsp oil (avocado or canola or other neutral oil)
1 yellow onion (or 2 medium shallots), sliced thin
2 sprigs fresh thyme (or 2 tsp dried)
1 tsp Herbes de Provence
1 c Castelvetrano olives
1 c white wine (Sauvignon Blanc or similar)
Salt (Kosher, if available)
Black pepper, freshly ground
Preheat oven to 350F.
Pat chicken dry with a paper towel and season generously with salt and pepper. Set aside.
In a pan on the stove top, heat 2 Tbsp oil over medium high heat. Place chicken thighs skin side down in the skillet to brown the skin. After 1-2 minutes, once the chicken starts to show color, add slivered onion and thyme to the pan and let saute while the chicken continues to brown, approximately 3 minutes. Flip the chicken thighs over using tongs then add both Castelveltrano olives and white wine to the pan. Place lid on pan and put in the preheated oven for 15-20 minutes or until chicken reaches an internal temperature of 165. Serve with roasted potatoes with pan juices.
Papi Potatoes
4 medium yukon gold potatoes, cut in wedges 3T olive oil Salt Pepper
Cut potatoes in to wedges approximately 3/4" thick. Toss with 2 tablespoons olive oil, salt and pepper. Heat a wide flat-bottomed non-stick pan over medium heat. (A well-seasoned cast iron pan also works well). Add 1 tablespoon olive oil to the pan and add potatoes. Potatoes should not be crowded, or they will steam rather than crisp (Papi wants them crispy). Leave potatoes to brown over medium heat for 5-7 minutes. Toss gently and leave for another 5 minutes. The flat surfaces of the potatoes should start to get nicely brown and crispy. Toss once more to get any of the uncooked surfaces browned in the last 5-6 minutes.
August 2021 Featured Recipe: Tequila Lime Duck Salad
Chef Natasha Gandhi-Rue from The Kitchen
The Family Dinner Table with Susan Peters: Chef Natasha Gandhi-Rue
Duck Marinade
Ingredients:
1/2 cup gold tequila
1 cup freshly squeezed lime juice (5 to 6 limes)
1/2 cup freshly squeezed orange juice (2 oranges)
1 tablespoon chili powder
1 tsp cumin
1 minced fresh jalapeno pepper, (seeded if you don't like spicy)
3 cloves of garlic minced
2 teaspoons kosher salt
1 teaspoon freshly ground black pepper
6 – 8 boneless duck breasts, skin scored
Truffle Vinaigrette
Ingredients:
1 cup extra virgin olive oil
½ cup white wine vinegar
¼ cup white truffle oil
2 tsp honey
1 tsp Dijon mustard
Salt & Pepper
For Salad
Ingredients:
Mixed Greens– we like arugula & endive
Salamis – Capicola, Sopressata, Genoa
Cucumbers
Tomatoes
Red Onions
Cheese (Extra Sharp Cheddar, Gouda)
Piquillo peppers or cherry peppers
Artichoke hearts, quartered
Banana Peppers or pepperoncini
Directions
The Duck:
Using a paring knife – score the fat on the duck breast (slicing just through the fat in a criss cross pattern).
Combine all the ingredients for the marinade into an airtight bag or container. Add the duck breasts and toss to combine. Refrigerate and marinate preferably overnight but for at least 6 hours.
Drain the duck from the marinade and gently blot off excess moisture. In a cold frying pan, lay the duck breasts skin side down and turn the heat onto medium. You want to render some of the fat off of the duck and turn the skin nice and crispy. Control the heat so you are hearing a sizzle but not popping.
Once the skin is crispy – flip the finish cooking the duck breasts on the other side. Cook duck breasts to 135°F for medium-rare or 140°F for medium. Let rest about 15 minutes before slicing.
Vinaigrette & Salad:
Add all the vinaigrette ingredients to a jar – close, seal and shake. Alternatively, put all the ingredients for the salad in a bowl excluding the extra virgin olive oil. Whisk constantly and drizzle the olive oil in a slow steady stream.
Chef Natasha likes to serve this salad on a large platter composed (meaning all the ingredients are in sections). She tosses the greens with the vinaigrette and serves more on the side. You can also serve this as a chopped salad with slices of the duck laid on top. See video for how Chef Natasha served it!
Serves 6 – 8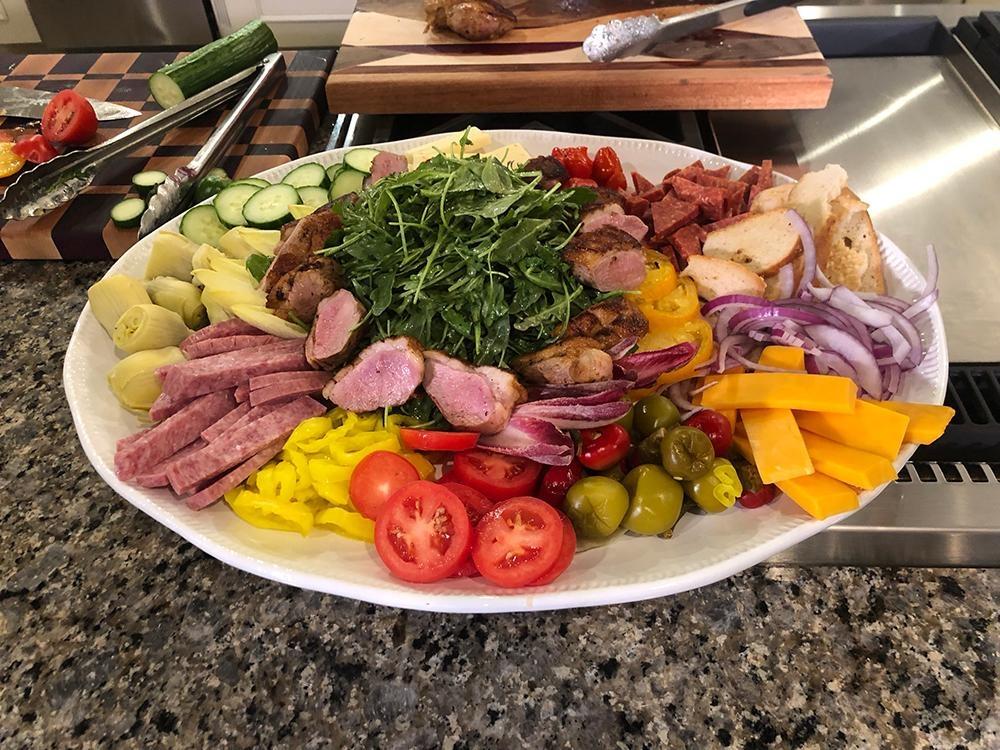 Summer Fruit Pavlova
Meringue:
6 large egg whites, room temperature
Pinch kosher salt
1 1/4 cup sugar
2 tsp. cornstarch
1 tsp. white wine vinegar
1 tsp. pure vanilla extract
½ pint fresh strawberries, hulled & sliced
½ pint fresh blueberries
½ pain fresh raspberries
For Whipped Cream:
2 cup cold heavy cream
¼ cup sugar
1 Tbsp. real vanilla extract
For Berry Sauce:
1 bag (16 oz) frozen mixed berries
½ cup sugar
18 oz jar seedless raspberry jam
Directions
For the Meringue:
Preheat the oven to 350®F. Place a sheet of parchment paper on a sheet pan. Draw a 9-inch circle on the paper, using a 9-inch plate as a guide, then turn the paper over so the circle is on the reverse side.
Place the egg whites and salt in the bowl of an electric mixer fitted with a whisk attachment. Beat the egg whites on high speed until firm, about 1 minute. With the mixer still on high, slowly add the sugar and beat until it makes firm, shiny peaks, about 2 minutes.
Remove the bowl from the mixer, sift the cornstarch onto the beaten egg whites, add the vinegar and vanilla, and fold in lightly with a rubber spatula. Pile the meringue into the middle of the circle on the parchment paper and smooth it within the circle, making a rough disk.
Right before putting the meringue in the oven, lower the temperature to 300 F. Bake for 1 hour 15 minutes. Turn off the oven, keep the door closed, and allow the meringue to cool completely in the oven, about 1 hour. It will be crisp on the outside and soft on the inside.
Sweetened Whipped Cream:
Whip the cream in the bowl of an electric mixer fitted with a whisk attachment (you can also use a hand mixer). When it starts to thicken, add the sugar and vanilla and continue to beat until firm. Don't overbeat!
Triple Berry Sauce:
Place the frozen berries and sugar in a small saucepan. Bring to a boil, lower the heat, and simmer for 4 minutes. Take off the heat and stir in the jar of jam. If you want your sauce completely smooth – process through a blender or food processor. Chill until ready to use.
To Assemble:
Invert the meringue disk onto a plate and spread the top completely with sweetened whipped cream. Combine the strawberries, blueberries and raspberries in a bowl and toss with about 1/2 cup of berry sauce, or enough to coat the berries lightly. Spoon the berries carefully into the middle of the Pavlova, leaving a border of cream and meringue. Serve immediately with extra berry sauce.
Serves 6 - 8
July 2021 Featured Recipe: Chicken Ragu Tagliatelle
Chef Luis Peña from Butler County Culinary Arts Program
The Family Dinner Table with Susan Peters: Chef Luis Peña
Chicken Ragu Tagliatelle
Ingredients:
1lb Chicken thighs and drumsticks (washed and trimmed of excess fat)
Salt, to taste
Ground Black Pepper, to taste
1 tsp Sugar
1 tsp vegetable Oil
1 medium Red Onion (diced)
1/2 bunch Cilantro (washed)
1/2 Anaheim pepper (seeds removed and diced)
1 Celery rib (cut into 1 inch pieces)
3 Garlic cloves (mashed)
1 tsp Oregano
Water as needed
Directions:
Season chicken with salt and ground pepper and set aside.
In a shallow braising pot add the oil and sugar. Heat the oil and balsamic glaze.
Add the chicken and stir to coat the chicken until it gets a nice even dark color all around. Cook for 10 minutes on medium heat.
Add red onions, cilantro, pepper, celery garlic and oregano to the pot and let cook until the vegetables have softened.
Add enough water to cover ¾ of the chicken. Bring to a simmer and then cover. Cook for 35-40 minutes.
Marinara
Ingredients:
10-12 Fresh Basil leaves
5 Garlic Cloves (smashed)
1 TB Oregano
2- 28oz Canned Whole Tomatoes
1 TB Extra Virgin Olive Oil
Directions:
In a tall pot over low-medium heat add olive oil once heated toast the garlic cloves once you can smell the garlic stir in the basil leaves then add the tomatoes.
Cook until reduced about a quarter.
Pour into blender or use an immersion blender until it is pureed.